If you're looking for a way to add a bit of texture and sparkle to your needlework, how about a bit of bead embroidery? There are many hand embroidery stitches that can be used in conjunction with beads, to create textured lines or fillings. One of my favorites is the Palestrina stitch.
The Palestrina stitch is already a textured stitch, as it forms a string of nice, fat knots along the line of stitching. It's a magnificent stitch for creating a textured line, and once you get the rhythm of the stitch, it's an easy and fun stitch to work! It's the same stitch used in twilling, a stitching technique popular among quilters in the Midwest, which is essentially embroidering blocks using Palestrina stitch.
In today's Stitch Play, we're going to add some beads to Palestrina Stitch.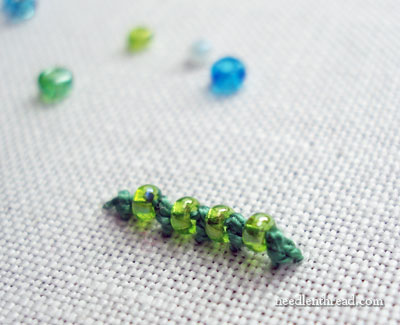 Beaded Palestrina stitch will result in a line that looks something like the little nubby line above: a string of knots, each knot alternating with a bead. I'm using a #12 perle cotton, and the beads come from some vial of beads out of my stash – they weren't numbered with a specific size or anything. They're just craft beads. The only criteria I was looking for when I selected them is that they had holes large enough to accommodate my thread.
The concept is simple: start your line of stitching with one Palestrina stitch knot. If you aren't sure how to work the Palestrina stitch, you can take a look at my Palestrina Stitch video.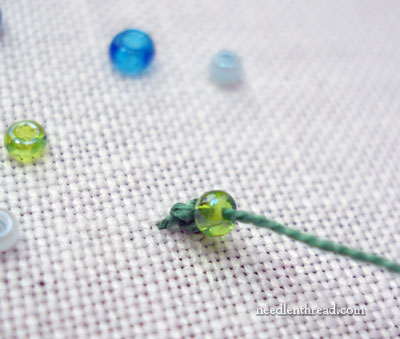 After the knot, add a bead!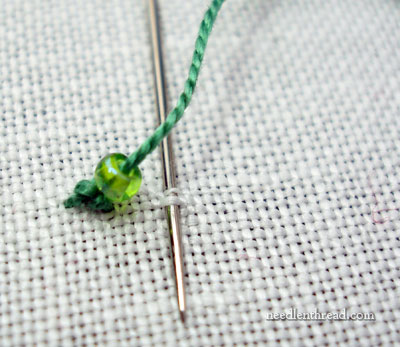 Start your next Palestrina stitch knot after the bead, not too close to cram the knot against the bead, but close enough to encase the bead between the two knots. If the knots are too close to the beads, the line will buckle. So leave the beads enough space, but not too much to make the line look stringy.
You might have to play a bit with the spacing, until you're comfortable with the results. A "doodle cloth" is a great place to do this! A "doodle cloth" is a piece of scrap fabric, hooped up and ready to stitch on, that you keep in your work basket so that you can work out problematic stitches. It's always nice to have one set up, on hand.
The spacing between the beads and stitches won't take much to figure out – play with it once, and you'll get it!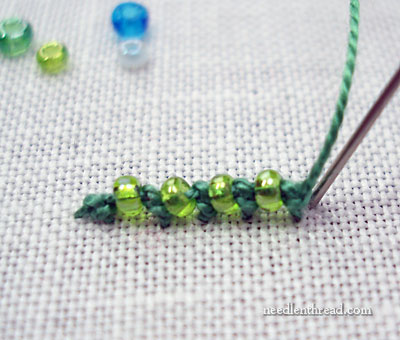 End the line of beaded Palestrina stitch with a Palestrina stitch knot, and take the needle down into the fabric directly after the last knot. And that's it!
You can work this technique on straight lines or on curves, and I think you'll find it's really pretty! You can also mix about your thread and bead colors, too.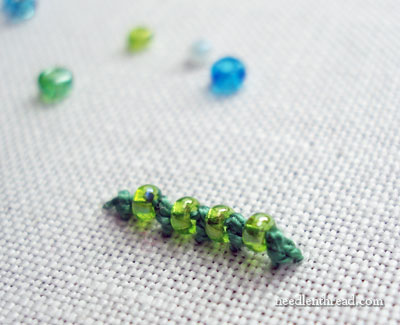 And, of course, you can use it for bug bodies. Doesn't that look like a caterpillar?
This post is part of a new series here on Needle 'n Thread called Stitch Play, where we fiddle around a bit with hand embroidery stitches. If you'd like to see me fiddle about with any stitch or technique in particular in this series, or if you have a specific difficulty with any embroidery stitch, feel free to leave a comment below, and I'll work up something for you!