Do you ever ponder the question of what fabric to use for your hand embroidery projects? Do you ever wish you could try out fabrics that you've heard of or seen, so that you can learn what you like and don't like to stitch on?
In embroidery, we often think about embroidery thread more than we think about fabric, but believe it or not, the choice of ground fabric is as important as the choice of thread!
The right ground fabric makes a huge difference – sometimes, the key difference – between a-raging-success-of-a-project or a-ho-hum-it's-ok-ish sort of project.
In the interest of giving folks the opportunity to try out different ground fabrics so that they can make informed choices, I've decided to put together sampler packs of various linens that I like, that make beautiful ground fabrics for hand embroidery.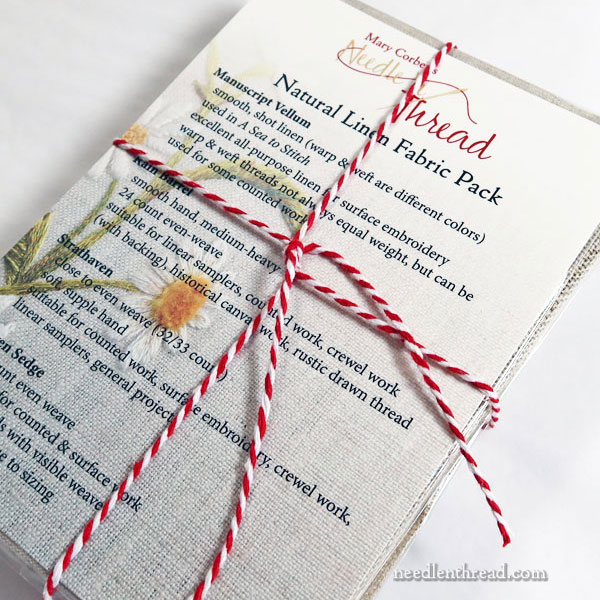 The idea of linen sampler packs has been brewing in my mind for a long time.
I get questions about the linen I use all the time. Instead of sending you off to purchase larger chunks of linen that you might not actually love like I do, it makes more sense to me to get smaller pieces into your hands, so that you can experience the characteristics of different types of linen and make your own choices.
The first sampler pack I've put together, then, includes four specially selected types of natural-colored linen. Even though I probably stitch more frequently on white, I love natural colored linen!
The recent advent of A Sea to Stitch by Elisabetta Sforza encouraged me to move in the direction of the natural colored options for this first sampler pack, which includes the linen she uses in the book.
Four Types of Linen
I chose four different types of linen, each with its own noticeable characteristics.
One is a shot linen (different color warp and weft – this is the linen used in A Sea to Stitch) with a high thread count and a smooth hand. It's suitable for all kinds of surface embroidery projects, and it's a really beautiful Italian linen. It's the lightest colored linen in the pack, somewhat sandy and stone-ish looking, thanks to the different colors of warp and weft threads in the weave.
I'm using this fabric as the ground fabric for the strawberries project we spoke about Wednesday. It's also the ground fabric that I'm using on my Stitch Fun 2021 year-long sampler.
The second linen is a low-count, heavier weight, with a very smooth hand. It's suitable for counted work (think: re-creation tapestries, historical canvas stitching techniques, etc.) and multi-use applications, linear samplers, and the like.
The third linen is Strathaven in natural. It's a lighter color with about a 32/33 count in the linen, a full weave, and a smooth hand. It's a soft, supple fabric, and it's suitable for all kinds of surface embroidery applications, as well as linear samplers and more. By linear samplers, I mean projects like this:
The fourth linen is a relatively high count even-weave (45 threads per inch) that can be used for surface embroidery, counted work, drawn thread work, and many embroidery applications. It is one of the darker fabrics in the pack.
In each sampler pack, I've included a card with a description of each type of linen and with instructions on how to prepare your new linen for embroidery.
Each 12″ x 12″ square is precisely cut, individually packaged, and clearly labeled with type, characteristics, and suggestions for use. They're all bound together in a tidy pack and wrapped up in tissue paper.
The size of the linen cut makes it ideal for a medium-sized project (say, 6″ or so in either direction, size-wise), or for a couple smaller projects, like monograms or little samplers. You can also "extend" the linen for hooping or framing by adding strips of fabric to the edges, like I did here for my 2021 sampler.
Shipping
Initially, I planned to ship these via First Class mail, and I did so with the first round. However, the delays in delivery were remarkable.
Instead, I'm shipping them via priority mail. Bought singly, they will ship in a small bubble mailer, via Priority, with tracking and insurance. The shipping time should be faster than First Class, and the service should be more reliable. Purchased in multiples or with other items, the sampler pack will ship via flat rate Priority.
Where to Find It, Re-Stocking Soon, and Advanced Notice
Right now, the natural linen sampler packs are available here in my shop, in a very limited quantity while I await the rest of my linen order.
I'll be restocking as soon as I can.
If you don't get in on today's listing, drop me a line, and I will put you on the advanced notice list. You will receive an email once the fabric packs are restocked.
I used up the last inches of even my own stock of linen on these, so please don't shoot me if I run out!
Wishing you the best of weekends with plenty of time to bond with your needle and thread!