Last week, I introduced you to some prep work I'm doing for some major embroidery projects.
As is always the case when preparing any embroidery project, the methods and techniques occupy my mind considerably long before the stitching begins.
With these particular cloths – 21 feet of 17″ wide linen – the first option for the cutwork was, of course, Richelieu. The design was made for Richelieu embroidery, and it seems that this would be the direction to go with the embroidery.
But my mind went in a different direction, especially after I started test stitching.
I'm an avid fan of a whitework technique called trailing. It's basically satin stitch over a bundle of threads used for padding, in order to raise the satin stitch and give the design depth and definition.
With trailing, you can add to the bundle of padding threads to increase the size of your satin stitched area, and you can remove from the bundle to decrease the size of the satin stitched area. You do this addition and removal process while you're stitching, to subtly increase or decrease the size of the shape. It makes for beautiful, smooth curves, lovely satin stitch joins, and so forth.
Trailing is used frequently in monogramming, but it can also be used very effectively in all kinds of whitework, including cutwork.
There are a couple reasons my mind turned to trailing after I started test stitching on the linen. The main reason is probably a personal preference – I prefer the look of it to the look of buttonhole stitch.
But there are practical reasons that trailing began to occupy my thoughts, too.
For one thing, the increased size of the design (which is enlarged some 175%) makes the distance between those two double lines in the design, which would normally be the top and lower edge for the buttonhole stitching, quite a distance apart.
In order for the stitching to look full and good, there's definitely a need for some padding underneath it. With the increased width of the line, more rows of padding stitches would be required.
And working those rows of padding stitches would take time. It's like having to embroider over an area twice. Ugh.
With trailing, the padding is formed by bundles of thread that you stitch over. You don't actually stitch the padding. So it's decidedly faster.
Another advantage to working a heavy line of trailing on the cutting edge of the cloth is that, as the stitching progresses around curves, it's not as difficult to compensate for the curve.
With the wider buttonhole stitching, you really have to be careful about fanning around curves, about angle of stitching, and so forth. The fanning out around the curves becomes much more exaggerated because of the distance between those double lines.
With trailing, which would be worked along the cutting edge of the design over a fairly wide bundle of threads so that there's a significant edging to keep things secure, the compensation tends to happen pretty naturally. It doesn't require as much thinking ahead. You'd really just end up following the curve easily as you cover that bundle of padding threads.
Besides the fact that you're not stitching the padding stitches, trailing works up faster, anyway. With satin stitch, you're going up and down into the fabric. You're not creating a twisted edge. And your thread behaves better the whole time you're stitching. It doesn't twist up as much as it does with buttonhole stitch.
Also, wrapped bars are much faster to work than buttonhole bars! And I like the smooth look to them. Plus, you don't have to worry about where the edge of the buttonhole stitch is, if you have to digress off a bar. With buttonhole, you've got to keep your mind on the edge of the buttonhole, so that you don't end up twisting your bars at intersections and the like.
You can also fiddle with intersections of wrapped bars, adding some woven wheel coverage very easily to add interest to the design.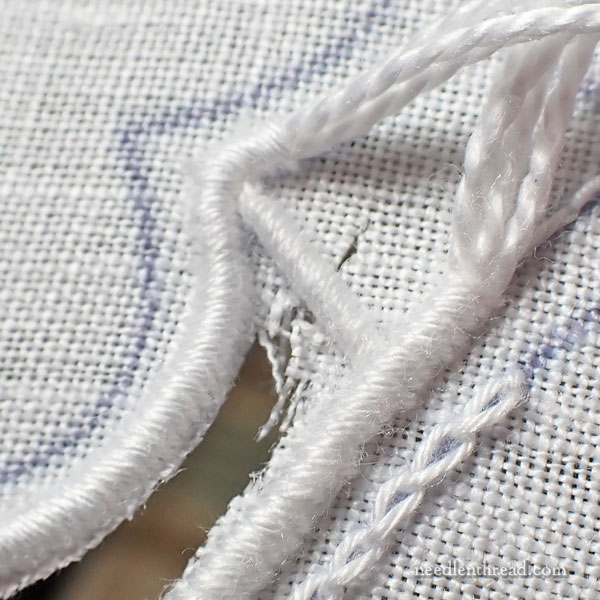 When testing ideas, I always get over-eager. I just had to start snipping away fabric, to see how this will look. The snipping doesn't look so grand at this point, but I think this is a doable option.
My idea is to work a heavy line of trailing along the cutting edge, and on the inside line of the design, to work a fine chain stitch just to draw that edge out and add a little interest and texture to the embroidery.
Even with that extra line of chain stitch (which works up very quickly), the trailing is faster over all, and I think it looks elegant and pretty.
Now I'm going to have to run this by the folks whose project this actually is. My two-cents' worth, with the increased size of this design, is to skip the buttonhole and go for trailing and wrapped bars. It just makes more sense to me, especially because it will save time and yet still look really beautiful.
My next step on this project, which will happen today, is to test the design transfer options.
I'll let you know how that goes. Argh! The transfer has to be right, or naught else will be.