Here in the studio, we've been stitching up sample after sample on a project collection that I've had on The List for about five years now. We never seemed to find the chunk of time needed to tackle the idea.
Suddenly, this past August, we decided we'd just leap in and do it this year, no matter what.
We started finalizing our doodled designs, turning them into useable vector drawings, then we gathered threads and fabric, and then…
…and then we got interrupted by a gazillion other fires that needed squelching.
Here we are, mid-October, weighing whether or not we can meet an end-of-October deadline for the stitched samples. Can we do it? I think we can! You know why?
Because truly, there's nothing better than having a Good Excuse just to stitch all day, playing with threads and stitches and fabrics and … BEADS!
Yes. Beads!
For me, beads are the highlight of embroidering small holiday projects.
Lately, I find that beads propel me out of bed in the morning. They drive me to work at unreasonably early hours. Beads occupy my waking moments at night. They insinuate themselves into my dreams. Beads rise up out of the haze of doing laundry and cleaning house. And they leap into my imagination when I'm supposed to be concentrating on other tasks … oh. Look! There they are, floating in front me as we speak…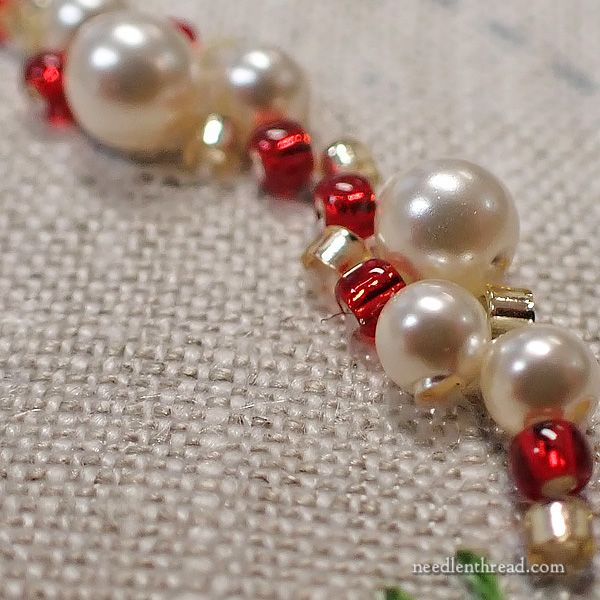 Beads!
There's just no better way to add that festive magical touch to holiday embroidery! A little bead or two or ten or more, well-placed, goes a long way to brighten the hand embroidered Christmas ornament.
With their hint of sparkle and twinkle, beads make embroidered ornaments so much more merry and fun!
So, if you hadn't guessed by now, I love beads. And between about October through January, I'm practically addicted to them.
When I start working on Christmas-related designs, the bead trays end up front-and-center on the work tables in the studio.
I've been using these bead trays for years and years. They are my favorite way to store beads, because, when I'm not working with beads, they stack so nice and neatly and they take up very little room.
But they store a lot of beads!
They allow me to neatly organize beads by colors, and within the color trays, by size. It's easy for me to find the bead I have in mind – as long as I have the bead I have in mind.
And if I don't have the bead I have in mind, then guess what?
Oh happy day! I get to go shopping! (Hey, any excuse to increase my cache of delightful, dazzling, delectable beads!)
Ok, enough. Let's be serious.
When it comes to planning a multitude of small projects that I'm going to spring on people, and that already involve several components, I really try not to go overboard using too many varieties of small things.
While I likely wouldn't restrict myself to one type of bead on a whole group of small projects, I would at least try to be mindful of using too many types and colors and sizes of beads.
While working on these projects, I'm trying to use beads from a pre-determined selection, so that stitchers can create a range of projects with variations, but using more or less the same components.
And while this approach can seem restrictive – especially when there are so many beads in the world to choose from! – it's actually a bit freeing. The fewer choices one has, the easier it is to move forward without hemming and hawing over decisions.
Restricting choices can also lead to good learning experiences.
Sometimes, beads that you thought would be Just Right end up not-so-right. And the bead that ends up Just Right is a bead you never imagined would work.
And so, forward again! Another day of stitching! And hopefully two more samples towards our goal.
Once we have our collection of samples finished, we will pick our favorites and turn them into something exciting for you.
Stay tuned!