Metal threads used in embroidery are widely available, but type and quality vary among manufacturers and retailers. The embroidery market certainly has its share of "metal threads," and you can pick up "metal" or metallic embroidery floss in just about any craft or sewing store. But goldwork often calls for specialty goods, so here's a little blurb on a few of the "metal threads" (threads is probably the wrong word!) used in goldwork.
Gold passing is the topic of this particular article, and I'm looking primarily at two kinds: real gold and imitation gold.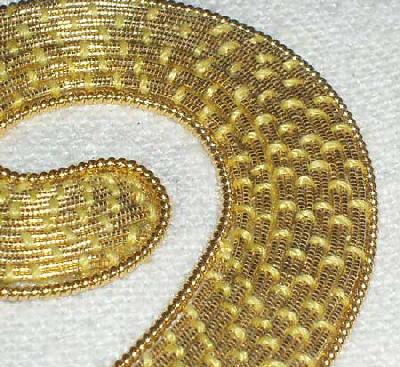 Before delving too far into this, you might want some background information on goldwork and how metal textiles are made, or you might want to take a look at some photos of a magnificent piece of goldwork.
Gold passing is often used to cover areas of design with smooth gold, by couching it. Above and below, you can see the Gold Passing Design from Berlin Embroidery Designs. This was the first goldwork I ever managed several years ago. This kit was perfect for getting me "into" goldwork and helping me learn how to use gold passing.
This is the majority of the gold passing design, and, for a first go at goldwork, I don't think it's too bad, though the mistakes seem a bit glaring: the twist around the red is couched incorrectly, the pearl purl is coming off in the center. But overall, this is what gold passing looks like when couched in a design. It gives a smooth filled gold look. There are different methods of couching – you can couch with gold thread as I did here, but you can also couch with colors, varying the distance between your couching to create a picture, as is done in the technique Or Nué. You can see a nice example of Or Nue at the Met.
Here's another close-up of the passing design, so you can see the couching, which is done over two gold passing threads at a time.
There are several sources for gold passing. Perhaps the most common source in the US is Kreinik, where you can purchase several types of real metals, including very limited sizes of passing, along with bullion, pearl purls, check purl, etc. They're selection is very limited. I do not know (and they don't mention it on their website) what the gold content is in these metals – whether or not they are gilt (a low content of gold), imitation (no gold), or 2%, which is, as I understand it, the highest content gold one can get in goldwork metals. Personally, I'm not that keen on Kreinik's selection, and once upon a time, when I did order some metals from them, I was a little surprised by their very brassy yellow look.
Then, of course, there's Berlin Embroidery Designs out of Canada, which is where I have purchased my 2% stuff, as well as her sampler goldwork kit. The 2% can get a little expensive. With the currency exchange rate, there is a slight difference between Tanja's Canadian prices on her website and the US dollar. Still, there's postage to consider, and this sort of balances out the exchange rate. Still, I like ordering from Tanja – I like the idea of supporting individual's embroidery businesses.
My latest find for gold is the Japanese Embroidery Center in Georgia, from which I've been purchasing, testing, and comparing silk.
So here are my finds on gold passing, and some comparisons so you can see what the stuff is like.
This is smooth passing, 2% from Berlin Embroidery Designs. The smallest Tanja Berlin carries is #4, which, as you can see by comparing it to the #10 embroidery needle, is fairly fine. There is a slight difference in size between the #4 and #5 both pictured above.
In the photo above, you see side by side the real gold passing (2%) in #5, and the Imitation Gold (Jap) from Japanese Embroidery Center, also #5.
Above is a close-up on the Jap, and below is a close-up of the 2%. Notice that the "gold" that twists around the core on the Jap is in somewhat wider strips, whereas the gold that twists around the core in the 2% is much narrower, creating a much stiffer thread (like a fine wire).
The Jap thread is more supple when compared to the 2%, probably because the outside "gold" is thinner and twisted around the core in wider strips.
Tanja packages her smooth passing either in a small, archival save plastic bag, or on spools, depending on how much you order. I ordered 10 yards here, so it's wound on a spool. The 2% is $3.00 (Canadian) / yard, so $30 Canadian for 10 yards.
The imitation Jap comes in a hank, 40 meters for $7.00. That's a considerable price difference! So you get about 43.75 yards for $7.00 (US), compared to 10 yards for about $25.50 US (as of today's date).
The imitation gold comes as small as size 0.8, which is sold in a hank of 100 meters, again, for $7.00. This stuff is super-fine, and can be used to embroider with (as in, passing through your fabric, not just couched on top).
You can see here a close-up on the hank of Jap size 0.8, with a #10 embroidery needle for perspective. It's teeny-tiny stuff!
Now, Jap gold can also be had as "real" gold – that is, with real gold hammered and wound around the core thread. In the photo above, I've got size #1 in both imitation Jap and real gold. Notice the color difference: the imitation has a redder tone. The real gold from the Japanese Embroidery Center also comes in a hank: 50 meters for $33.00 (US). Real gold in #5 (like that above) comes in a 50 meter hank for $88.00. Again, it's less expensive overall than the 2%. It's more supple as well (like the imitation Jap), because of the method of manufacturing.
Here's an up-close shot of the imitation Jap gold and the real gold, so you can see, again, the difference in color.
You can also purchase twisted gold for couching from the JEC. The twisted gold gives a different look to your project, because the twist reflects the light differently. This is imitation Jap as well.
And, finally, here's a close-up so you can see the size of the #2 twisted Jap gold in relation to the size of a #10 embroidery needle.
Why use real gold instead of imitation, or visa-versa? Well, real gold is "richer," certainly. When you're working on something of value, you might rest well in the knowlege that, with real gold, you're working with the "best." But, over time, real gold does tarnish – that is, it turns a bit darker. It's not the gold itself tarnishing, because gold doesn't tarnish – but to be worked, flattened, hammered, stretched, and retain strength, it has to be mixed with an alloy (sometimes silver), and this is what darkens. The imitation gold remains bright. But that "patina" (perhaps the wrong word!) or look of real gold over time is, I think, highly desirable on certain projects. As it darkens (not an ugly darkening, certainly), it looks richer. The real gold can also be cleaned by someone who knows how. The gilt or imitation golds remain a glaring bright, which takes away from the richer, aged look. This is just my opinion – I have certainly seen some beautiful needlework that was worked with imitation gold, the results of which are gorgeous. But…? I don't know – what do YOU think about imitation vs. real gold? Does it just depend on the purpose of your project?
Next time I cover gold, I'll give you some close-ups, comparisons, and resources for other types of metal used in goldwork. If you know of any further sources for different metals for goldwork, please let the rest of us know!