Continuing with the subject of the drawstring bags that the kids are makingn in our summer embroidery class, here's the second of the four patters we're using. It's a daisy garden.
This is the second most popular embroidery pattern for this project. The kids like it for a couple reasons: they love the lazy daisy stitch, the pattern is simple and doesn't require many different types of stitches, and therefore, it's quick to work. This morning, we have our second class since starting these projects, so I'm eager to see what they've accomplished at home in a week!
Here's the embroidery pattern. It's another sketched-on-graph-paper-then-scanned deal, so it's a bit scratchy, by you can still get the idea. If you want to save it, you can click on the image to get a larger size, then right click on that and save it to your computer. Then you can resize it however you wish.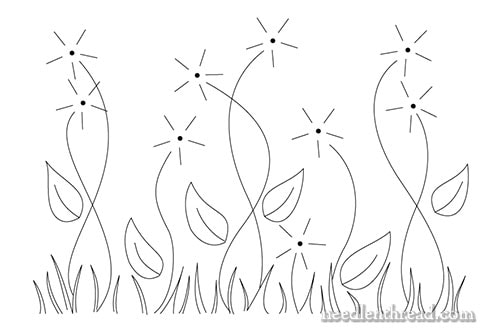 For this design, the stem stitch works great on the stems (!), the lazy daizy works for the flowers (although you could dress them up with other stitches as well, like bullions worked in loops, which would give more texture), and the center of the flowers are French knots or beads. The leaves are fishbone stitch, or they can simply be outlined in stem stitch. For the younger children, the backstitch is preferred to the stem stitch, but the design looks really nice with the stem stitch.
This pattern looks really good on the light green, the light blue, and the light purple bags, especially because the linings on those have daisies or other flowers on them and the colors of the flowers are easy to coordinate with the colors of the lining.
Daisy Garden Printable
Here's the handy-dandy PDF printable for the Dancing Daisy Garden design. It prints about 7″ wide, if you choose no scaling or similar on your computer.
Dancing Daisy Garden – a simple hand embroidery design (PDF)
Looking for More?
You can find more free hand embroidery patterns right here on Needle 'n Thread.
Like What You See?
If you like what you see on Needle 'n Thread, if you want to help keep the website thriving and free of annoying network advertising, why not become a patron on Patreon? Check out my Patreon page here, where I'll occasionally add special needlework bonuses for patrons.
If you shop on Amazon, you can support Needle 'n Thread without any extra expense to you by visiting my Amazon Recommendations page here, where you'll find books and sundries for the needleworker available on Amazon.