Here's the embroidery pattern for the book cover I'm embroidering this week, in case you want to add it to your collection, too! I received a couple e-mails asking for it, so here 'tis.
I'm embroidering this design primarily in long and short stitch – the cross and the flowers are done, and I think, with the crown, I'll be using the same stitch, although I'll touch it up with something (I'm not sure what, yet!) for texture. I don't want it to look cheezy at all, so I want to be pretty careful with the crown! All the vines are worked in stem stitch, and the lettering will be done either in stem stitch or in a tiny whipped backstitch.
But you could use anything, really, with this design, as far as stitches go. You could outline instead of fill, using any variety of chain stitches. Or you could fill in with split stitch (in an Opus Anglicanum kind of way) or chain stitch or stem stitch.
If you go with a filled-in design, the design will stand out boldly – if you go with an outline design, it will look more delicate.
So, here's the design. I'll be adding it to my list of other hand embroidery patterns, too, so you'll be able to find it there.
Click on the design for an even larger version, then resize as you wish.
I took the bottom line off the crown, by the way, in my project…
Enjoy!
Interested in more church patterns?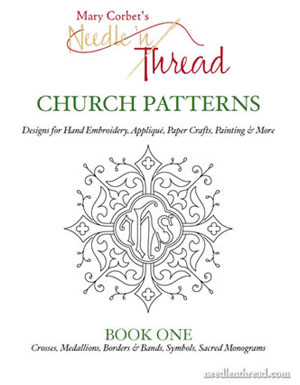 Check out Church Patterns: Book One – a collection of over 120 patterns in a 38-page PDF, suitable for church embroidery, and also for other arts & crafts endeavors (appliqué, paper crafts, painting – you name it!).