I do love digging through old pieces of linen that I've got here and there in boxes or drawers. I think this piece is particularly pretty, but it needs some serious clean up work. It's a nice center piece for a table, or, on a small round table, could cover it completely.
I'll be testing a new cleaner on this piece – I purchased a product called Restoration, which is supposed to restore vintage linens (or new ones, too, I guess) that are beset with stains, age discoloration, fold lines, etc. I can't wait to give it a try! If you've every seen the website, Cynthia's Linen Room, you'll find she recommends it highly in her tips on laundering antique linens.
In any case, on this piece, you'll see some nice, simple whitework and a very well done crocheted lace edge on a round linen accent piece.
This is the whole piece. It is stained from age and has definite fold lines on it. The embroidery on it is not super fancy, but I think it's ok. By far the prettiest part of the piece, in my mind, is the crocheted edge.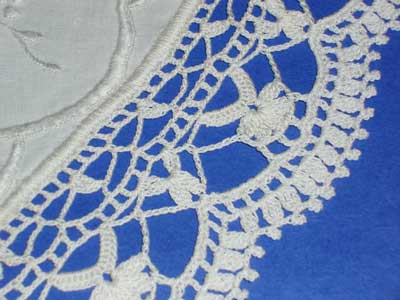 I like the pattern – the way it criss-crosses, and the little picots on the edge of the scallops.
Here's a close up on some of the embroidery. There's a scallop design that circles the piece, and then two repeated motifs that alternate with each other around the piece.
This motif cuts in three times around the piece, into the center. It's kind of a strange pattern – a sort of little off-set scalloped cut into the center, with those two half-moon things and some vines. I love the use of the seeding in the background.
Here's another close-up on the crochet. I have no idea what the little string is that runs through the crocheted squares. It runs about half-way around the whole piece. Any idea?
If you have any vintage linens or stained linens, how do you clean them? I'd be interested to hear. I'll let you know how the Restoration stuff works – I have high hopes for it!