Here's the last installment of this series of tutorials on hand embroidered lettering and text! Today, I'm going to take you quickly through the end of the stitching on my little sampler. For the final words, I've tried a couple new threads, but the stitches are ones we've already seen. If you're just joining in on the end of this series, you might want to take a look at the previous tutorials in the series, which cover all kinds of ways to hand embroider lettering.
I'm stitching the small filler words here, using three different types of threads for the remaining four words. I have few comments to make on the threads!
I stitched this short little "lazy" at the base of the sampler, using a relatively bright green over-dyed silk from Sassa Lynn. I liked these threads ok for this sampler. They're very soft. I think they're worked best in short lengths. I could see them being very nice threads for crazy quilting.
Here's the sampler after this word was added.
Now I ventured into this Burmilana, which I picked up on one of my shopping stops last summer while on vacation. This is the first time I've stitched with it. It's a wool and acrylic blend.
Oh my. I don't usually knock too many threads. But I don't think this one is made for surface embroidery. It is a pill. And it pills – and it fuzzes – and it's just really difficult to work with. I tried working with a crewel needle, a chenille needle, and even a milliner (thinking the round eye might wreak less havoc on the thread), stitching with short lengths of the thread, but really, what it boils down to is that this is a difficult thread to stitch with.
Perhaps, on a large-holed canvas, it may work better, and indeed, that may be what the manufacturers had in mind for this thread. But I'm pretty sure it wasn't made for surface embroidery.
The whole time I was stitching with it, I was thinking to myself, "Oh. Yuck."
And this brings me back to the whole question of embroidery supplies. If you're going to invest in supplies, do make your investment worthwhile by purchasing items you know are made for surface embroidery!
Here's the sampler so far, on an angle….
Using one strand of Pearsall's in a wheat color, I stitched this tiny "quick" in stem stitch.
Pearsall's is a nice silk. It's a little pricey, but it is a nice thread. It's softly twisted filament silk, so it has a very nice sheen. It also snags on things easily.
My advice is not to stitch with Pearsall's right after you've put up your Christmas tree – or you'll end up with a lot of these:
This is Pearsall's in red (which I used for the very last word on the sampler), after snagging it on my scratched and raw tree-fingers!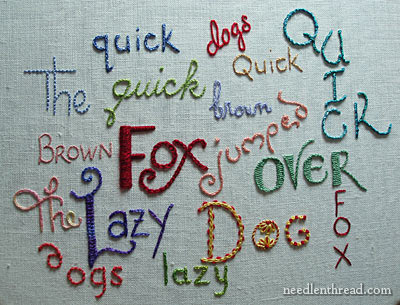 And there's the finish of my rather crowded and somewhat colorful and fairly nonsensical lettering sampler.
When you embroider text, remember the golden rule of all writing: The purpose of writing is communication! If writing does not communicate, then what is the point of writing? If your lettering does not communicate what it is meant to communicate, then the effort is wasted! Choose stitches that best communicate to your reader, and arrange the words so that they communicate your thought clearly to your reader, too. If you follow those rules, you'll have no problems with stitching readable text!
I hope you enjoyed this series! You can find the rest of it under "Tips and Tricks for Hand Embroidery" in the top right column, under editor's floss. There, you'll find all kinds of useful articles for beginners and beyond.
*********************************
Other News:
Don't forget my current give-away ends this Saturday, December 26th. If you'd like the opportunity to win one of Trish Burr's project CDs, don't forget to follow the directions in the original post for leaving a comment!
Speaking of that give-away, if you're in the US and you're looking for Trish's DVD / CD set, you can definitely order it through Nordic Needle, if you call them to place the order. It's not on their website yet, but they do have it in stock.
Today, I'm planning to finish the Nichole needlebook! Wish me luck. I'll share the finish with you in upcoming days.
But speaking of upcoming days, tomorrow is Christmas! Yes, I will still post – a Merry Christmas message for you, done by hand (but not stitched!). Right now, though, I'm not really replying to e-mail, unless it is urgent. If you've written in the last few days with a question, never fear – I will reply! But it may be a couple days yet. If you do have an urgent question, feel free to drop a line and let me know! I'll try to get to you sooner.
Here in the Midwest, we're anticipating a big ice and snow storm starting today, so it will be a perfect day for indoor finish work, wrapping presents, and getting ready for tomorrow.
May you have a peaceful, quiet, not-too-hectic Christmas Eve!