Ok, all you left-handed stitchers out there! Here's the book you've been waiting for – and guess what? If you're a right-handed stitcher, you'll be interested in this review, too!
When Yvette Stanton set out to create a left-handed stitch dictionary this past year, I never expected anything less than another excellent book by Yvette. But now that I've seen the book, my opinion has changed a little bit. You see, Yvette has written some exceptional embroidery books, so I figured this stitch dictionary would be in the same category.
But you know what? She's outdone herself on this. I'm not exaggerating! I think this is her best book yet. Yvette's other embroidery books are very topic-specific. Besides this new books, she has written a Mountmellick book, a Ukranian drawn thread book, and a Hardanger embroidery book. All of them are thorough and excellent instructional books in their specific categories.
But the Left-Handed Embroiderer's Companion is in a different category, and this is why I think it catapults to the top of the list. It is a book for everyone!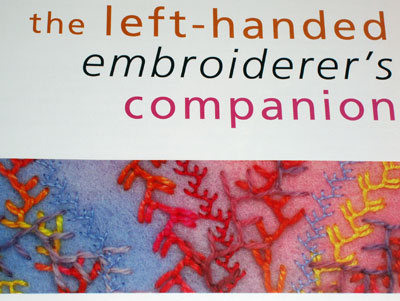 "For everyone?" you ask. "Isn't it for left-handed stitchers?"
Ok, you're right. She wrote the book for left-handed stitchers.
But, see, there are stitch dictionaries, and then there are Stitch Dictionaries. I have some absolutely favorite stitch dictionaries. And being a right-handed stitcher, I can pretty much use any stitch dictionary I want to use. Some are better than others, so I stick with a few favorites.
But Yvette's stitch dictionary, while written for left-handed stitchers, is so thorough. So totally instructional. So clear. So…. Everything you want a stitch dictionary to be!
She begins with some basics, like the question of starting and ending threads.
She discussed needles and the importance of the right needle, explaining differences in needles and so forth.
And then she launches in to the Dictionary Proper. And this is where it gets amazing. Her diagrams feature step-by-step movements of each stitch she covers. Under each diagram, she meticulously and clearly explains the step of the stitch. On each stitch page, she includes colorful photo examples of the stitch worked on fabric or felt (some gorgeous felt photos in here!) in various threads.
The background of each stitch diagram, as you can see in the photo above, is blue. But what is that pink square? Oh – yes, she includes in the right handed movement for the stitch as well! In one square, she clarifies the difference between the stitch performed by a right-handed stitcher and the stitch performed by a left-handed stitcher.
I'm a huge fan of Country Bumpkin's step-by-step photos of stitches found in their A-Z books, in Inspirations Magazine, and in their various other books (like The Embroiderer's Handbook). Since I've become so attached to the Country Bumpkin way of presenting step-by-step photos in their books, I was pretty certain drawn diagrams would never quite hold the same appeal. Yvette's diagrams are computer graphics that mimic photos – the movement of the needle and thread, the position of the fingers and so forth, are all included. So although you might be tempted to think that, since she's using diagrams rather than photos, this dictionary doesn't measure up, don't worry! It does. The diagrams are perfectly clear when it comes to the movements used to create a stitch.
Many embroidery stitches have variations – and many embroidery stitches have many variations. Yvette covers variations on stitches that have them, so that you can experiment all kinds of ways of using the stitch.
And she includes in the dictionary many obscure stitches that you don't always find in stitch dictionaries. She goes beyond the basics with specialty stitches like the Mountmellick Thorn Stitch and the elusive Plaited Braid Stitch (for which she presents thorough instruction, including the questions of spacing and width).
The book features 74 stitches plus variations. It is an amazing stitch dictionary that I know left-handers especially will appreciate because they've waited a long time for a book written for them with this kind of quality content.
But it is not limited to left-handed stitchers. As a right-handed stitcher, I am certain this is going to be one of my "go to" reference books for stitches. Furthermore, as a teacher, I know it will be invaluable in the classroom and at workshops for instructing lefties! (Since writing this review, Yvette has also published a Right-Handed Embroiderer's Companion, which I've reviewed here on Needle 'n Thread as well.)
Where to Find It
You can find Left-Handed Embroiderer's Companion directly through Yvette's website in Australia here, or through the following book affiliates:
Worldwide with free shipping, Left-Handed Embroiderer's Companion is available through The Book Depository in the UK.