It's been a while since Yvette Stanton's stitch dictionary, The Right-Handed Embroiderer's Companion, hit the market. Her first book of the stitch-dictonary ilk was written for the left-handed stitcher, and is appropriately called The Left-Handed Embroiderer's Companion, and when it came out, I reviewed it here on Needle 'n Thread. It is the definitive stitch dictionary for the left-handed stitcher.
I wanted to review The Right-Handed Embroiderer's Companion today for a few reasons: 1. I think it would make a great Christmas gift for any stitcher interested in surface embroidery, crazy quilting, counted work, drawn thread work…. (should I go on?). If you don't already have it, you may want to add it to your wish list! 2. It's a Really Good stitch dictionary, and I've been making use of it for a while now without actually giving any verbal credit to it. I refer to it often when I'm either deciding on a stitch to use or needing a refresher. When I get transported to that desert island to be forever stranded, limited in the number of embroidery books I can take with me, I'm pretty sure this book will be in the boat. Reason 3. It's always nice to have a review to fall back on when someone inquires about "which stitch dictionary" to buy. This will hopefully give some insight into the book, so folks can make a good decision when judging among several available stitch dictionaries.
If you're already familiar with the RHEC and you think this is "old hat" because it's been available for a while, bear with me! If you've not heard of the book and you're looking for a good stitch dictionary, this is definitely one you should add to your list of contenders.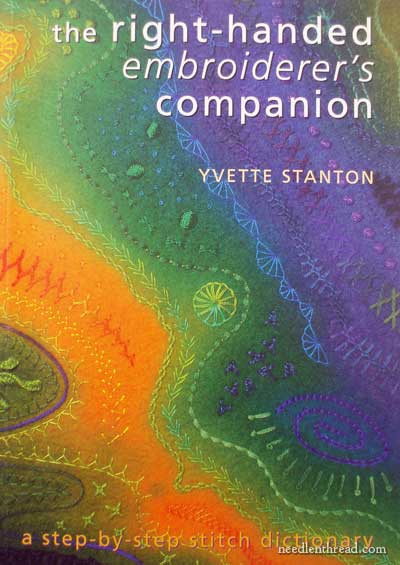 Yvette's stitch dictionary is colorful on the outside and instructional on the inside! In both of her stitch dictionaries, Yvette displays the various stitches worked on dyed felt for the most part. I love the colorful and bright combinations on the covers and on the inside samples. The book is large, well-made, and printed on nice paper.
This is a stitch dictionary, so you won't find projects in the book – it's not a project book! It is simply instruction in stitches, which is exactly what it should be. So right at the beginning of the book, you'll find a table of contents that lists off a whole bunch of stitches. There are over 170 stitches and their variations in the book. That's a lot!
The only "set-up" and preliminary-type information in the book has to do with the job of stitching. There's a good, clear explanation of ways to start and end threads, for example.
All the stitches and variations in the book are demonstrated with diagrams. Now, even though these aren't step-by-step photos of the stitching process, they are just as good. The diagrams include fingers, too, and they show you exactly how to hold the thread, how to wrap the thread, where to insert the needle, and so forth. Each stitch is worked out in clear stages, bit by bit, so you don't miss any movement involved in making the stitch.
Throughout the stitch dictionary, you'll find plenty of photos that demonstrate what the stitches look like when stitched. White bullions on bright yellow felt – what's not to love?
The book is not limited to surface embroidery stitches only. There are plenty of counted thread techniques covered as well, and they, too, are illustrated with clear diagrams and explanations.
You'll also find drawn thread stitches within the ranks. The book does not limit you to just one type of embroidery, as you can see!
And, to make finding the stitches and variations that you're looking for much easier, there's an alphabetical index in the back of the book.
The Right-Handed Embroiderer's Companion is exactly what the title promises it to be – a faithful companion for the embroiderer, just waiting to help you create the perfect stitch.
The pros of the book:
The first "pros" that pop into my mind: quantity and quality. The quantity of stitches and variations is quite nice – and the stitches range from the simple to the complex (like plaited braid, for example). The quality of instruction is superb, as is the case with all of Yvette's books.
The cons: Hmmm…. Are there any? It's a great stitch dictionary for beginners and beyond!
Where to Find It
You can find Right-Handed Embroiderer's Companion directly through Yvette's website here, or it is also available through the following book affiliates:
Worldwide with free shipping, Right-Handed Embroiderer's Companion is available here through Book Depository.