Never underestimate simple stitches.
Take, for example, the running stitch. It is the simplest of embroidery stitches. But you can do a lot with it! The running stitch can be used as a filling, it can be used to form the foundation of compound stitches, it can be "dressed up" by being laced or whipped with another color of thread. Simple – yes. But versatile, too!
Here, I'm working with the wrong thread, the wrong fabric, and the wrong needle. I was demonstrating pattern darning to a student, explaining that running stitch should not be poo-pooed just because it's such a simple stitch.
Here's a basic running stitch, worked in one strand of floss. Notice the regularity of the size of the stitch and the regularity of the spacing. Working on linen, whether it's even-weave linen or not, it's pretty easy to work regular running stitches and to space them regularly, too. By counting the linen threads over which each stitch is taken, uniformity is easy to achieve.
Of course, this uniformity would be even more uniform on an even-weave fabric, but for pattern darning (which is what this technique is called), I prefer plain-weave linen. It has more character. (Yes, this is one of those moments when irregularity and a bit of wonkiness is referred to as "character." It's kind of like my old, crooked house. We don't say it's crooked. We say it "has character.")
Pattern darning (using running stitch – or "darning stitch" – to create fill patterns) is not necessarily a counted technique. It can be done, believe it or not, on plain-weave, high thread count fabrics like muslin or silk. But it's a lot easier on a linen, where you can see the individual threads in the fabric and use them as a guide.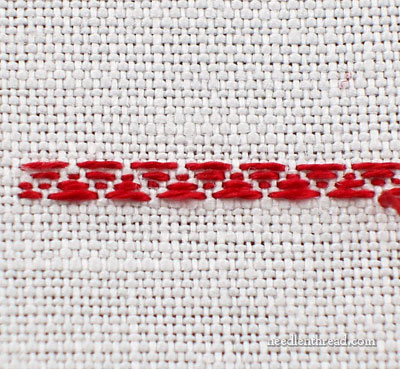 Notice that I'm just working running stitch in rows, back and forth, and changing the size of the stitches to create a pattern. Nothing complicated here!
The more rows you make, the more the pattern emerges. This is a simple diamond pattern.
This little bit is worked on a pretty high count linen (about 50 threads / inch). The scissors are my 3.5″ embroidery scissors, just to give a sense of scale.
To work out interesting darning patterns that can be used on linen so that the threads of the fabric can act as a guide, play around on graph paper. It's a fun way to develop neat patterns. Just remember that your pattern has to develop in lines that are worked either horizontally or vertically, so that they can be worked out on the fabric in lines of running stitch. There are all types of ways you can use running stitch to create interesting pattern darning designs.
Grace Christie's book, Samplers & Stitches, has a nice section on pattern darning, beginning around page 108 of the text. You can find the book online and download it for free. I've linked to it in this article that reviews Samplers & Stitches by Grace Christie. It's a wonderful book!
So, the next time you're thinking that running stitch is just a ho-hum stitch, try some pattern darning! It's fun, it's beautiful, and it's a great way to add a patterned fill to your embroidery projects.