Here's a free hand embroidery pattern for you. I mentioned it a while ago, but never published the complete pattern. It comes from a stitched design in the work New Patterns in Old Style by Emilie Bach, which you can find in digital format (PDF) online at Antique Pattern Library.
I think it's an excellent design that would look great worked small, in silk and gold, or larger in crewel embroidery.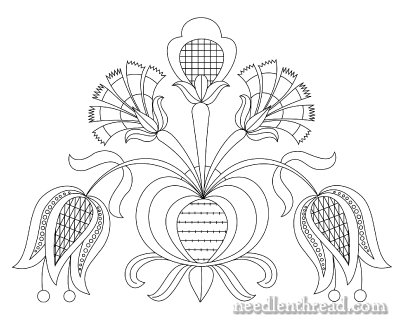 I do actually have plans for embroidering this one day! I'd like to work it small, in silk and gold. But given the plethora of things I've got in the process of stitching right now, it's probably best not to jump into another project! Still, you might be itching for something to stitch and might like the pattern, so you may as well have it now, too!
I've included two PDFs here – a small one with the width being about 6″ wide, and a larger one, with the width being a bit more than 9″, I think. If you were to work the pattern as a silk & gold project, I'd go with the smaller one. As a crewel project (with wool), I'd go with the larger one. If you want to use cotton floss on it, you can go with either size!
Here are the PDFs:
Tulips & Carnations Embroidery Pattern – small
Tulips & Carnations Embroidery Pattern – large
You can find more free hand embroidery patterns here on Needle 'n Thread, if you're looking!
Hope you enjoy this one!
Looking for inspiration & information on hand embroidery?
There are all kinds of reasons to sign up for the Needle 'n Thread daily newsletter! Check them out and sign up today!