When I think of Hungarian embroidery, I generally think of bright, multi-colored embroidery. From region to region in Hungary, though, different styles of embroidery dominate. Some of it is multi-colored and bright. Some of it is whitework. As with many countries that have a needlework heritage, there are many different styles of embroidery in Hungary.
My favorite type of embroidery from Hungary is a kind of "peasant" embroidery, worked in red, red and blue, or red and black, on heavy, coarse linen. I'm calling it Hungarian redwork, because really, that's what it is – it is often all-red embroidery, worked heavily in a combination of buttonhole stitch, a kind of closely worked open chain stitch, some satin stitch, and sometimes other stitches, too.
The thread used is cotton, and the red – it's really red! And maybe that's why I like this embroidery. I'm kind of a sucker for red.
It's not just the red, though, that grabs me. I like the simplicity of this type of embroidery. It's somewhat rustic and very folk-y. And I like that a lot.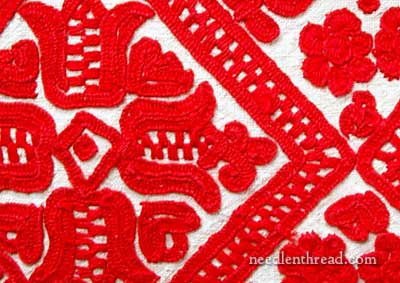 At the same time, it's rather thick and heavy. And that might not go over so well with everyone, I suppose! So with today's hand embroidery pattern, I've worked it so that you have two options – you can go with thicker, heavier lines, or with finer lines.
Free Hand Embroidery Pattern from Lilly's Legacy
Here is the design. You can click on it to see a larger version. It was drawn by Lilly Baróthi Zathureczky, and is part of "Lilly's Legacy." If you'd like to read the back story of Lilly's Legacy, you'll find it here, with the first Hungarian embroidery pattern in the series.
This particular "redwork" design is not quite the same as the folky designs you might see with this type of Hungarian embroidery. Normally, chickens, roosters, hearts, tulips and other flowers – typical "folk" elements in design – populate the redwork. Lilly's design above is not as "folky" in this way, though you will see the heart motif subtly repeated here and there in the design. Instead, she relies on scrolly and wiggly lines for the majority of the design.
Free Embroidery Patterns
I've re-drawn the design in a vector format, to make printing and transferring the design easier. Above is the heavier-lined version. If you want to go with heavy, wide lines to work the pattern in embroidery, you could trace the outside extremity of the heavy lines.
Here's the PDF for the heavy-lined version:
Hungarian Redwork Embroidery Pattern: Heavy Lines (PDF)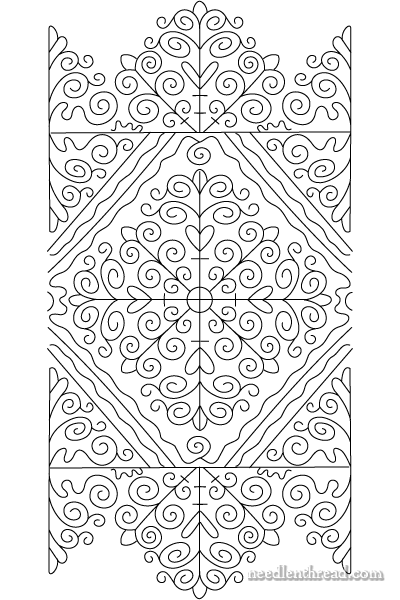 This is the lighter-lined version of the design, in case you want to stitch it in finer line stitches.
Here's the PDF:
Hungarian Redwork Embroidery: Fine Lines (PDF)
Enlarging / Reducing the Embroidery Pattern
You may wish to enlarge or reduce the embroidery patterns as they are given in the PDF. If you choose "no scale" on your printer when you print the PDF, they should print at 10″ long. You can enlarge this easily by having it photocopied. For example, if you want the design 16″ long, take it to a copy center where they print on paper that size and have them enlarge the design for you. To reduce the design size, just change the scale or percentage in your print settings before you print the PDF.
I'm Stitching It!
Guess what? I'm actually going to stitch this design. I'm thinking a sort of short table runner, with the design at each end, like this:
I'm going to use Hungarian braided chain stitch, Alba Maxima linen, and I haven't decided on the thread yet. The outer edge all around will be hemstitched.
My "vision" of the finished piece is as part of a Christmas centerpiece – the linen on the table, with the red embroidered ends sticking out below a Christmas centerpiece of some sort. The Hungarian braided chain stitch works up quickly, and the whole project can be worked "in hand" (without a hoop), making it a convenient project for working in casual situations.
So that's my plan – I'll keep you posted! I have other projects going right now, we'll see how well this one squeezes in.
I hope you enjoy the embroidery pattern. If you're looking for more hand embroidery patterns, there's a whole collection of 'em right here on Needle 'n Thread!
Looking for inspiration & information on hand embroidery?
There are all kinds of reasons to sign up for the Needle 'n Thread daily newsletter! Check them out and sign up today!