If you enjoy blackwork – or if you haven't tried it but are keen to – here's a wonderful online resource for an extensive collection of blackwork filling patterns – and it's free!
Kim over at String or Nothing has put together a four-part PDF just loaded with blackwork patterns. You can download all four PDFs straight from her website, and then print the patterns and use them for your personal blackwork pursuits.
The fillings are presented in uniform square plates, and there are about 220 of them to choose from! Some of the plates fill a perfect square, too, so they'd be great for biscornu-making, ornaments, and the like.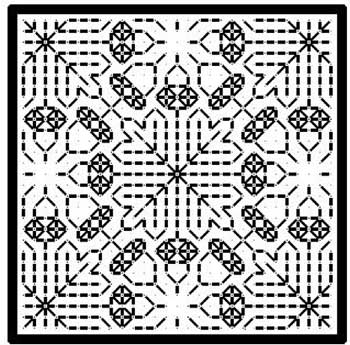 If you're wanting to stitch up something with an autumn theme, look for patterns like the one above that include acorns and leaves.
Do drop by String or Nothing this weekend and download this nice collection of free blackwork filling patterns! You'll be glad you did!
I've added Kim's book to my Books page here on Needle 'n Thread, where you'll find all the needlework books I've reviewed, and – if you scroll down – you'll also find some of my favorite free online embroidery books. If you're looking for something to browse through this weekend, there's nothing in the world quite like good embroidery books!
Also, if you're interested in seeing how to develop your own blackwork designs, you might take a look at these two articles here on Needle 'n Thread:
Blackwork Design Development: Variations on a Theme
Blackwork Design Development: Further Variations
Enjoy your weekend!