Following up on yesterday's blackwork pattern, I thought I'd talk a little bit about developing designs for blackwork and show you a bit of the basic process of coming up with myriad patterns all from the same basic design.
I don't normally sit around drawing blackwork patterns, but since it was part of the spot sampler series, I messed around a bit with one theme, and developed it into several different looks. So I thought I'd show you how I did that, and encourage you – if you're interested in blackwork – to sit down with some graph paper and doodle out some designs. You'll be surprised what you can come up with, employing only slight variations on a theme.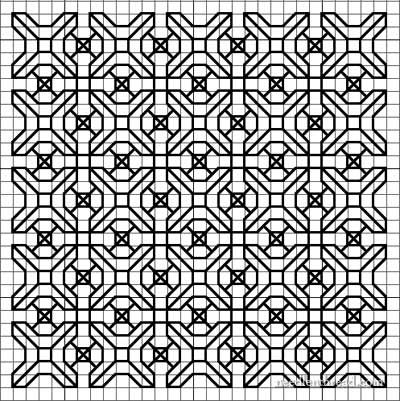 Above is one of the final blackwork squares I came up with, after starting with just this:
After drawing out one line, the next step seemed natural. I mirrored it:
Most blackwork patterns I've come across feature a lot of repeats. So why not repeat the line?
The repeated vertical lines begged for some horizontal accompaniment:
That seems to work. It fits well in the middle of the vertical lines, and it squares up the pattern a bit. So let's fill in the rest of the square:
Now we have a basic square design to work with. The design can be repeated for a filling pattern as it is. But crossed lines always make me think of weaving possibilities, so let's see what happens when we alter the way the lines overlap:
It looks similar to the previous square, but there's a bit of variation and depth, with the over-under pattern. That's ok. But it's still somewhat bland. How about decorating the original square?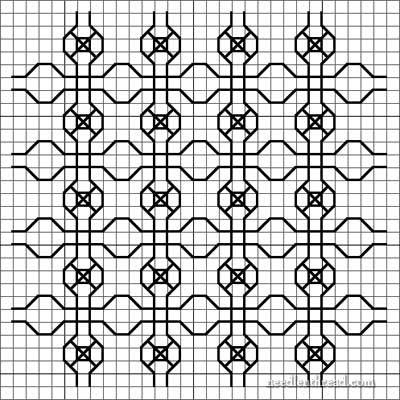 Ah. Yes. A bit more intricate. But we can go farther still:
It's more or less a checkerboard kind of pattern now. The next step might be to play a bit with the background:
There's one option of filling in the background areas. I like it, so I'll repeat it: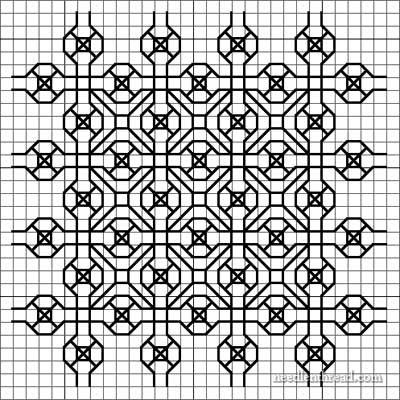 Which finally brings us to the full square, which has lost some of the bumpy-line-striped-look that we originally started with: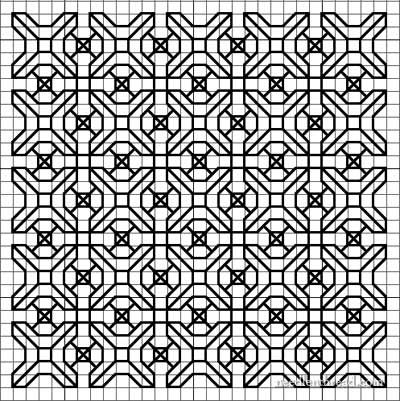 If you worked the design above on 28 count fabric over two threads of fabric, it would come out to approximately 2″ square.
Tomorrow, I'll show you a further development of the design, for a completely different look, and give you a printable PDF with all the variations of finished squares, in case you'd like to play with them, too. My plan is to show you a stitched version soon, along with a tutorial on working a design in Holbein stitch.
Have a wonderful weekend!