Whether you're serious about embroidery or a beginner just beginning to explore the art, every stitcher needs a stitch dictionary! There are all kinds of stitch dictionaries available, but if you're going to invest in one, invest in a good one.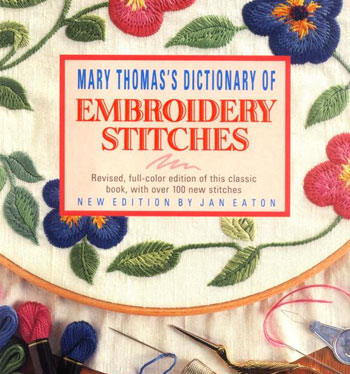 I've got several in my own library, and one that I like and that I refer to often is Mary Thomas's Dictionary of Embroidery Stitches.
This particular stitch dictionary is a full color book with over 400 illustrated embroidery stitches. The book begins with essential information about embroidery supplies.
There are several particular features that I like about the book:
While the stitches are "diagrammed" (rather than photos of the actual stitch in process), there are clear, colorful photos of the completed stitch in regular application as well as in major works of embroidered art. The photos of the major works provide inspiration.
The book is divided into stitch types, as opposed to an alphabetical directory. This is useful if you know what kind of stitch you want. Do you want to stitch an outline? Do want some ideas for filling stitches? You can look them up easily this way. It's more helpful than wanting a line stitch and looking through an index at names like "Palestrina" or "coral" and not knowing what type of stitch it is.
Step-by-step directions of thread direction, etc., are given on the more complex stitches. On simple stitches, generally only a one-step diagram is supplied, and this generally suffices.
While there are plenty of other stitch distionaries on the market, this one seems to be a standard. I know I like it for quick and easy reference. It suits both beginner and advanced embroiderer, and it's relatively inexpensive.
Do you have a stitch dictionary you prefer? Let the rest of us know what it is and why!
Where to Find It
You can find Mary Thomas's Stitch dictionary through the following book affiliates:
In the US, you can find it through Amazon, here.
You can also find Mary Thomas's Dictionary of Embroidery Stitches through Book Depository in the UK (if you need to order it outside your own country, they have free world-wide shipping).