The checkered chain stitch has a whole slew of alternate names for it: alternating chain stitch, magic chain stitch, two-colored chain stitch. Whatever name you give it, this stitch is a simple chain stitch, but it's worked in two colors, so that the color alternates with each stitch.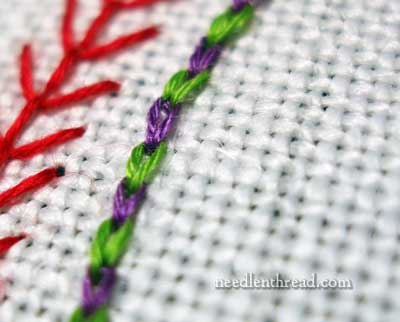 In the photo above, you can see a chain stitch line, but what makes it different from regular chain stitch is that it is somehow mysteriously worked in two colors of thread, with the stitches still interlocking as they do in chain stitch.
Really, it's not mysterious at all – this is a very simple stitch. It just requires that you have two threads in your needle at one time. And this is where things get tricky. If you're using stranded floss, the checkered chain stitch can get somewhat messy if you can't keep your strands separate, so the stitch actually works better with a non-divisible thread, like a fine (#12 or #8) perle cotton or cotton floche, which is what I use in the video below.
This is fun stitch – you can play around with it and alternate your colors differently. For example, you can work two chains in the first color, one chain in the second color, two in the first color, one in the second, down the line. You can also create a checkered filling with the stitch by working rows of checkered chain stitch next to each other, starting every other row with the same color, so that the colors off-set each other in adjacent rows.
Hope you enjoy the video!
Looking for other embroidery stitches? You can find over 70 hand embroidery stitch videos right here on Needle 'n Thread.
Looking for inspiration & information on hand embroidery?
There are all kinds of reasons to sign up for the Needle 'n Thread daily newsletter! Check them out and sign up today!
If you like what you see on Needle 'n Thread, if you want to be a part of keeping the website thriving (and free of annoying network advertising), why not become a patron on Patreon? Check out my Patreon page here, where I'll occasionally add special needlework bonuses for patrons.
If you shop on Amazon, you can support Needle 'n Thread without any extra expense to you by visiting my Amazon Recommendations page here, where you'll find books and sundries for the needleworker available on Amazon.