The double feather stitch is another one of those great embroidery stitches that work well for vines, branches, foliage and the like. Double feather stitch works well for crazy quilt seams, for decorative borders, for floral embroidery, and the like. You can mix up double feather stitch and regular feather stitch to achieve a looser, free-flowing feather stitch. Or you can keep a more rigid approach to the double feather stitch and end up with an airy zig-zag line.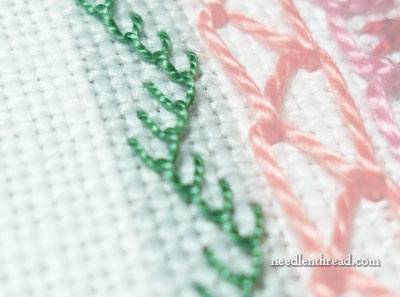 In the photo above, the double feather stitch is the green stitch, and it is worked rigidly, following the exact form of the stitch. I used a #12 perle cotton for that sample, worked on a white 20L Italian linen.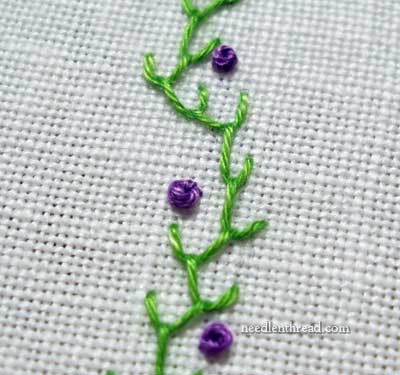 In this photo, using floche on white linen, I've combined double feather stitch and feather stitch, working a rather random, free-form vine.
In the video below, I started with five parallel vertical lines drawn on the fabric, so that you can see the form and movement of the double feather stitch, but once you get the hang of the stitch, you'll want to work it without the lines, because the lines can't really be covered up by the stitch.
Here's the video:
If you're interested in learning other hand embroidery stitches, you can find plenty of other how-to embroidery videos here on Needle 'n Thread!
Looking for inspiration & information on hand embroidery?
There are all kinds of reasons to sign up for the Needle 'n Thread daily newsletter! Check them out and sign up today!
If you like what you see on Needle 'n Thread, if you want to be a part of keeping the website thriving (and free of annoying network advertising), why not become a patron on Patreon? Check out my Patreon page here, where I'll occasionally add special needlework bonuses for patrons.
If you shop on Amazon, you can support Needle 'n Thread without any extra expense to you by visiting my Amazon Recommendations page here, where you'll find books and sundries for the needleworker available on Amazon.