The fishbone stitch is an easy hand embroidery stitch that works great for creating filled leaves and petal shapes. You can use the stitch for other applications, too, but the fishbone stitch is most often seen as a filling for leaves. This is because it creates a satin-stitch-like filling, with a natural spine down the center.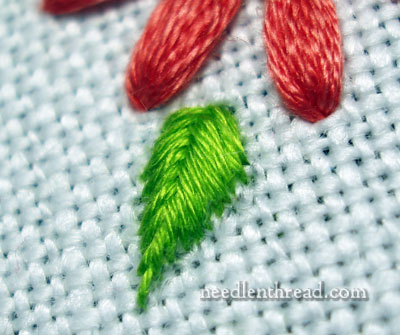 In the photo above, you can see the fishbone stitch used to create the green leaf. The thread used for that leaf is cotton floche, a wonderfully soft hand embroidery thread.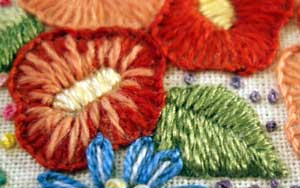 Fishbone stitch works well with any type of thread, really. In crewel embroidery, it works really well with wool, and you'll find that the stitch fills up the space rather quickly when you're using a heavier thread like wool. With a finer thread (such as a single strand of cotton), it will take a little longer to fill the shape, but the result will be a smooth surface, almost like a satin stitch, with a self-forming spine down the center of the area.
To keep the angle of the fishbone stitch correct, when you enter the fabric on the design line, enter very close to the previous stitch. When you take your needle down into the fabric in the middle near the spine, move a bit farther away from the previous stitch, so that your stitches lie parallel. This is demonstrated in the video.
Here's the video for the fishbone stitch:
If you're looking for other embroidery stitches to play around with, you can find plenty of embroidery how-to videos here on Needle 'n Thread!
Looking for inspiration & information on hand embroidery?
There are all kinds of reasons to sign up for the Needle 'n Thread daily newsletter! Check them out and sign up today!
If you like what you see on Needle 'n Thread, if you want to be a part of keeping the website thriving (and free of annoying network advertising), why not become a patron on Patreon? Check out my Patreon page here, where I'll occasionally add special needlework bonuses for patrons.
If you shop on Amazon, you can support Needle 'n Thread without any extra expense to you by visiting my Amazon Recommendations page here, where you'll find books and sundries for the needleworker available on Amazon.