The outline stitch is a basic stitch used in hand embroidery for lines and filling.
It's an easy embroidery stitch and works up quickly, with a nice rhythm. You can work the stitch in a "sewing method" (in hand embroidery, this means "scooping" the fabric up with the needle to make the stitch) or a "stabbing method, which means taking the needle and thread all the way to the back of the work, and then bringing it back to the front of the embroidery, with each stitch.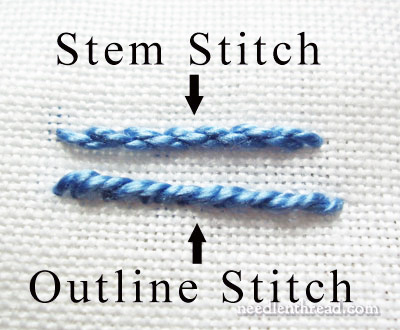 The outline stitch is a lot like the stem stitch – only the position of the working thread is above the needle as you stitch – or, if you're stitching up the design, away from yourself, it's to the left of the needle.
The noticeable difference between the outline stitch and the stem stitch is that the outline stitch forms a closer twist in the look of your line, so that you don't see the separation in the stitches as clearly as you do in stem stitch.
To learn more about the stitch, check out this article on outline stitch vs. stem stitch. Reading about the difference between s-twisted and z-twisted threads will also help you embroider a better outline stitch.
This article showing stem stitch and outline stitch with different threads will also be helpful to clarify the difference between the two stitches, depending on the thread you're using.
Here's the video:
Do you want more inspiration & information on hand embroidery?
There are all kinds of reasons to sign up for the Needle 'n Thread daily newsletter! Check them out and sign up today!
You can find over 75 embroidery stitch how-to videos here on Needle 'n Thread, to help you breeze through all your hand embroidery projects!
If you like what you see on Needle 'n Thread, if you want to be a part of keeping the website thriving (and free of annoying network advertising), why not become a patron on Patreon? Check out my Patreon page here, where I'll occasionally add special needlework bonuses for patrons.
If you shop on Amazon, you can support Needle 'n Thread without any extra expense to you by visiting my Amazon Recommendations page here, where you'll find books and sundries for the needleworker available on Amazon.