Vintage embroidery designs, though "out-dated," are still really popular! They are perfect for embellishing household goods, clothing, tote bags, etc., and are usually quick to work up with simple stitches. If you're looking for vintage embroidery designs, here are a couple great websites I've come across recently.
These websites that focus on vintage designs for hand embroidery are all made available, from what I can tell, by one individual. Her sites include a flickr group, a blog, and a website that serves as a "library" of vintage Vogue embroidery patterns.
The website library of vintage Vogue embroidery patterns is really a colorful and entertaining stroll through the designs of past years which were popular for household embroidery embellishments. The website's owner has generously made available scanned photos of many sets of these Vogue embroidery patterns. While the patterns themselves are not available on this site, you can get plenty of good ideas for embroidery here.
You can click on the cover of any of the collections and get a close up of the images within that collection.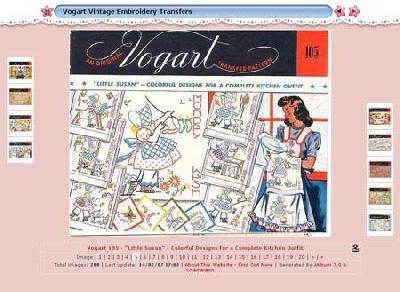 Then, the same author, Floresita, has a blog – a great blog! called Vintage Transfer Finds. And on this blog, she has available many scanned vintage designs. She does not offer designs that are still sold. Rather, these are designs which are no longer available to buy new and are therefore, from what I can tell, pretty much out of circulation. When you click on the design shown on her blog (which acts as a kind of index), it takes you to the larger image stored on her flickr site.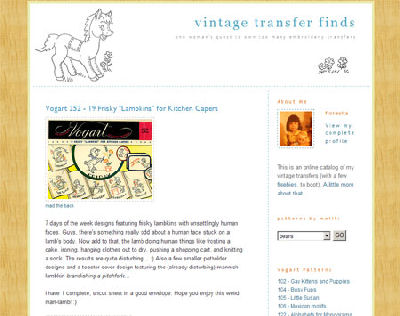 All in all, this is a great resource for embroiderers! You can find lots of fun designs for all kinds of projects: kitchen towels, baby quilts and clothes, pillow cases, tote bags, etc.
With these vintage designs, the beginner can certainly practice many basic embroidery stitches – if you're just starting out, visit my Video Library of Stitches, where you can learn how to work french knots, stem stitch, whipped backstitch, chain stitch, and other basic stitches perfectly suited to vintage embroidery designs.
Enjoy these links!
And thanks, Floresita, for the nice work!