Or Nué is undoubtedly the most advanced type of goldwork, and it's an embroidery technique that fascinates me! Here are some resources…
First, I should clarify: I'm not talking about the half-way hazy "Or Nué" kits, where you get to work cotton threads over DMC metallics, and produce a vague image of something, but you're not quite sure what.
While these projects do introduce the concept of Or Nué, they aren't what fascinates me! It's the historical stuff that I can't get enough of!
So I wanted to share with you a couple resources on this technique, so that you can see what it is, maybe dabble in it yourself, or just delight in the historical pieces that reflect an unbelievable level of craftsmanship with needle and thread.
First of all, there's this article that Megan sent me a link to, although (grin) I did already have it! But she reminded me of it, and that's what counts! The article is titled "Classnotes on Or Nue Embroidery," and it's a 3-page PDF file with two nice, clear black and white photos. The article contains some useful information about the technique, and a good desicription of what it's all about. The article comes from an SCA site that actually has a whole index of articles on metal thread.
Then there's this post about Or Nue on Needle 'n Thread from not-too-long-ago, within which you will find some good resources and a picture of the Mantle of the Virgin.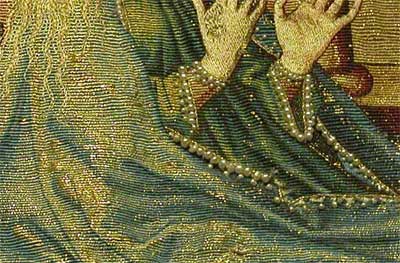 The sparkle of the gold through the silk is lovely. And the shading on this piece is INcredible! And of course, I love the pearls! You can pan the image while it's zoomed, which is a nice feature.
One of these days, I want to work up some tutorials that cover goldwork! Here's hoping it will happen over Christmas break.
In the meantime, do enjoy the links above!