Needle lace is a general term for – yes – lace made with a needle. There are many different types of needle lace. It seems that each region of Europe, for example, that has a needlework tradition, seems to have their own style of needle lace.
I love needle lace! I especially like the types that adorn linens. Italian cutwork is perhaps my favorite! I thought I'd just share a couple photos of a practice piece of needle lace that I pulled out of my sample binder today when I was cleaning up.
Italian cutwork is a technique that embodies whitework, cutwork, and needle lace techniques. It's worked on linen, and the design that is to become the inset needle lace is created by laying a foundation of threads in the pattern of the design, then cutting carefully away the linen and folding it back, stitching over the folded edge.
Then, over the foundation threads that mark out the lace pattern, stitches are worked – usually buttonhole stitch, worked close together. Triangles, arches, and so forth can all be worked in geometric designs within cut out squares or other shapes.
The linen is further embellished with white embroidery. Some pieces of Italian cutwork are extrememly intricate, and really, really beautiful! Reticella, another Italian needle lace, had its origins in cutwork, but the technique for reticella lace eventually migrated to working the lace over threads, completely free of the ground fabric.
Italian cutwork makes use of the ground fabric (linen) to anchor the foundation threads of the design (although, technically, you can make the same type of needle lace designs on paper, so that you have a separate piece of lace…)
Ok, enough! If you want to read further about Italian cutwork, I suggest the Priscialla Italian Cutwork book which you can find available online through various sources. I suggest searching Internet Archive and Antique Pattern Library.
If you follow that link, you'll see a preview of the book, with some good photos of Italian cutwork.
Here's a little piece of needle lace I worked up as a sample a couple years ago. I was fiddling with Italian cutwork, and this was one of the little needle lace designs in the book.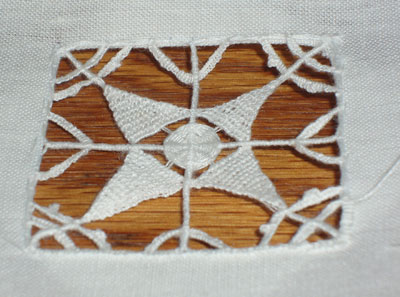 The piece is a little short of two inches square. You can see that my picots are not so well done! It took a little practice to get those right! Also, the edge is not complete.
You can see the back here, with the linen cut and folded back. After the edges are stitched over (either with buttonhole or with an overcast stitch), you cut away the excess of the triangles.
So that's a little needle lace sample!
If you want to look further into needle lace online, two of the best sources for old publications are Antique Pattern Library and Internet Archive. Both have search features – just drop in "needle lace," and you should land a few publications to inspire you!