And yet another example of ecclesiastical embroidery – this time, a superfrontal, which hangs on the top front edge of the altar, but does not extend to the ground. It usually kind of "caps" the frontal, which would be a cloth that covers the entire front of the altar. In older churches with very ornate altars, frontals aren't necessarily used, but sometimes a superfrontal still is, for decorative purposes. If it's custom made for a particular altar, it would not cover any of the carvings or paintings on the front of the altar, but would hang just above them.
This particular piece is quite long. It has the Pelican embroidered in the center, motifs with text evenly spaced on each side, as well as medallions depicting the four evangelists. Because it was in a display case, I was only able to photograph the visible parts.
This is the whole piece, folded in the display case. I love the red and gold on white.
Here's the central image. If I recall correctly, the pelican and nest were embroidered, then appliqued onto the red background, and then the whole piece is appliqued to the white fabric.
One of the embroidered medallions of the Evangelists – St. Matthew, I believe.
Another symbol for one of the Evangelists – St. John, I think. Well, if that's an eagle, anyway! It's not an ox or a lion…
Getting a little closer on the pelicans, you can see the long lines of split stitch.
And yet a little closer…
And closer, still…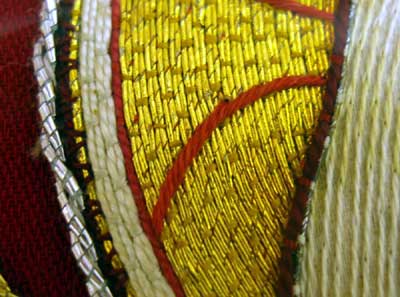 A close up on the couched gold in the halo – it looks like imitation Japanese gold again.
This is from some of the lettering on the rectangular motifs you can see in the first picture. The text is from the hymn "Tantum Ergo."
A close up on some of the cording used as edging around the appliqued areas.
This is a close up on the rectangular motifs, over which the text banners kind of float. Beautiful padded satin stitch.
And here is the corner of one of those rectangles, from a little farther away so you can see how the design works.
And a close up on what I think must be gilded leather in the center of those little designs around the rectangles.
And I think that about does it for ecclesiastical embroidery for a bit! I don't know if you enjoy looking at these photos, but I sure do find the work amazing. The techniques are certainly transferrable to secular embroidery as well, so maybe you'll be able to glean some ideas or find some inspiration in the photos!
I hope you enjoyed them!
I wish you all a very happy Easter, and I'll be back on Monday with a needle comparison and a great find in (really nice) embroidery needles.