Once you have an embroidery project set up and ready to go – fabric selected, design transferred, threads lined up – perhaps the most important thing to consider is what embroidery needle to use. There are all kinds of different types of embroidery needles – which one to use depends on your fabric and thread. The thing is, within the "types" of needles, you also have the consideration of quality. Here, I'm looking at embroidery needles from a company called Pony.
Normally, I use "fine English needles" for my embroidery projects. Richard Hemming, John James, Mary Arden, and S. Thomas & Sons are pretty much the brands I've stuck with over the years. They're reliable and fairly easy to come by. You sometimes can find them in hobby and craft stores (in a very limited range), but you will find a better range at your local needlework shop. You can also find them online through almost any needlework or fabric shop, or through online sources such as Colonial Needle.
The problem is, if you're looking for really fine needle – sizes 11 & 12 crewel needles, for example – they're kind of hard to come by.
I have a marvelous selection of very fine needles from Wendy Schoen Designs, but I don't use them as often because they're wrapped up and my supply is limited. (But I do love those needles!)
So that's my plug for the needles I typically use.
Recently, though, Michael Cook of Wormspit.com e-mailed me about some needles that he had come upon and finally tracked down. The manufacturer is Pony, from India, and the needles are used by the Chinese in their fine and detailed hand embroidery.
After some contact with the company, he received a shipment of the needles to try. He kindly sent me a selection of #10, #11, and #12 – three each with gold eyes, plus one fully gilded needle in each size.
It was a while before I could work with the needles, but finally, yesterday I took out a small project and used the needles on it. It's a thread painting project, worked in one strand of DMC in a high count cotton muslin.
I generally use a #9 or #10 needle on these projects, but mostly because I'm too lazy to go through my supplies and get other needles out. I always have 9's and 10's on hand.
For this particular needlepainting project, since I had the smaller sizes, I decided to try the #11 Pony, and they were perfect.
They made those meticulously placed little stitches easy, and they are slightly finer than #10, which seemed to make a difference on the split stitching in the long and short stitch in tiny, detailed areas. In short, I liked the #11! I had all four threaded and working on the project at once. There is a slightly different feel to the fully guilded needle, but I can't really place or describe what's different about it. It passes through the threads and the fabric easily, but it "feels" as if there's a coating on it, because there is. It's not a bad feeling, and in fact, I like working with the needle. But there is a slightly different "something" about it.
Here are the needles, two of each, one of which is the gilded one. I've laid them on 8-square-per-inch graph paper so you can get an idea of the size.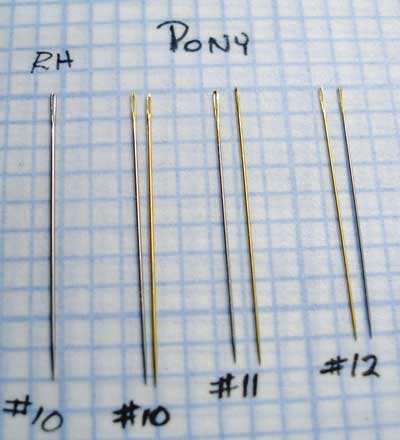 Here they are again, with a #10 Richard Hemming needle (left). The #10 Pony and the #10 Richard Hemming are the same length, as far as I can tell, even though the Pony looks longer (it's the placement on the paper).
I threaded both #10s (R.H. and Pony) with one strand of DCM and stitched with them, one needle right after the other, to see if I could tell a difference in size or feel. The Pony needle feels slightly finer than the Richard Hemming, which is what Michael found as well.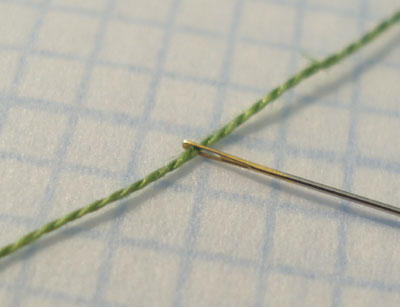 One strand of DMC also fits in the #12 Pony – BUT… it doesn't work well on tightly woven or high count fabric, as it takes a pit of a tug to get it through. It works fine on something a little looser, though.
The long and short of it:
I like the Pony needles ok. I'm going to keep using them on my present project to see how they stand up. They bend slightly – I don't know how they will wear over a little more use – but I don't mind a needle that bends. In fact, I like it. It gets "comfortable."
The #10 Pony seems slightly finer than the #10 Richard Hemming.
The #11 Pony works ok with 1 strand of DMC on a high count quality muslin.
Most people will probably need a needle threader for the #12 with a strand of DMC.
On Threading Needles
Yes, I have been known to lick my thread now and then. It's a habit I developed as a kid when I first started stitching, and it's one that I've pretty much broken, but occasionally, yeah, I still like my thread.
However, with these really fine-sized needles – and really, with any needle you're keen to preserve longer – it's better not to lick your thread to thread the needle.
Why shouldn't you lick your thread?
The main reason might not be what you think it is! Especially with needles with tiny, delicate eyes, the wet thread can cause the inside of the needle to rust, which forms a rough spot or kind of burr inside the eye. This wears on your thread, causes breakage, and can lead to stitching with portions of thread that you might not even realize have broken fibers.
Another reason: The habit of wetting thread can work against you when you're playing with a thread that has been unfortunate enough not to hold on to its dye. In these days of hand over-dyed thread, risking a mark on clean fabric is not really worth it.
Finally, if you work with silk embroidery threads, I'm pretty sure that licking silk is something akin to sacreligious. Silk is weaker when it's wet, too, so you don't want the weakened thread taking abuse while it's in the eye.
Tomorrow, I'll show you some photos of hand-made Japanese needles. And to top off the whole needle discussion, I'd love to hear how all you non-lickers out there thread your needles! I'll cover how I do it, too.