Why would anyone want a hand-made needle? Surely, a hand-made needle must be some roughly hewn large thing unbefitting to fine embroidery work!! Well, you might think that, but the fact is, whether you pursue Japense embroidery or not, having a few hand-made needles among your embroidery tools is a good idea!
Although I have several books on Japanese embroidery, I have never formally studied the techniques, so my hand-made needles aren't actually used in Japanese embroidery. These unique needles come in handy for working with real metal threads, with any smaller cord-like threads, and even just with your regular embroidery floss.
The advantage of hand-made needles is all in the eye. Because they are hand bored and not punched out by a machine, there is no "crimp" or ridge on the inside of the needle. The holes are nice and smooth.
This smooth round hole helps reduce the wear and tear on threads from the eyes of regular needles. With goldwork, this is important. You see, if you use a regular needle in goldwork (especially with gold-wrapped threads that you are planning to pass through the ground fabric), the ridge inside the edge of a regular needle can cut through the outside wrapping of gold on the core thread. When you pull the needle through the ground fabric, if your gold has split from the core, you risk the gold bunching up as you pull the thread through. Hand bored needles help you avoid this dilemma.
As for hand made needles being bulky or large, it depends on the size. The tiny #3 hand-made Japanese needle is so small that you can't stitch one strand of DMC with it. If you split your strand of DMC in half (single strands of DMC are made up of a two-ply twisted thread), you can manage one ply (half the strand) in the eye, if you can see it to thread it! In other words, the #3 is a pretty small needle. So the hand made needles can be very tiny, but they can also be pretty large – able to accommodate gold passing thread easily.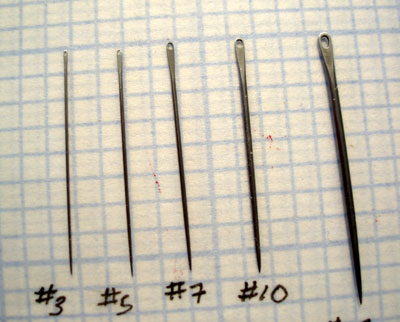 Here, you can see the sizes of the hand-made needles I own. They are laid out on 8-square-per-inch graph paper. The #13 is large and has a bulky look to it. (It's the one on the far right, with the number cut off.) The #3 on the left is pretty darned tiny!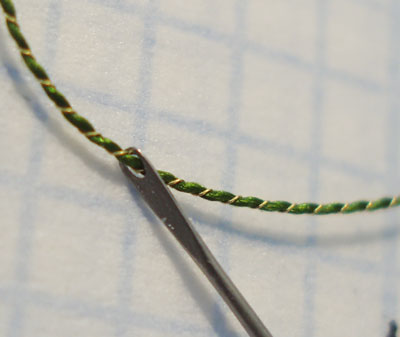 This is the #7 needle, threaded with Gilt Sylke Twist. A #5 is too small for this thread, and I don't have a #6 to try. I haven't tried the thread yet with this needle, so I can't say exactly how well it works! Once I get caught up with my regular work, I'm going to be testing different techniques with the GST. I figure the #7 needle will work fine for it. The #10 seems too big – as if there would be too large a whole left in the fabric after the needle and thread passed through. We shall see!!
Good things come in small packages! This is the dark green GST here – the "dusty" look on it is actually the sparke from the gold. Very nice color! And amazingly fine stuff!
You can find hand-made Japanese needles through the Japanese Embroidery Center in Atlanta. They are a valuable and reliable resource, and, if you do order from them, I think you'll be pleased both with the products and the service.
I'm looking forward to playing with these needles and thread soon and posting the results for you! If you have any questions or any suggestions about any testing you'd like to see with the GST ("What kind of embroidery can you do with this thread?") just let me know! I'll be happy to see if I can accommodate any specific requests for trials.