Just a short little post, to show you pictures of the lattice work on the strawberry embroidered in satin stitch with the Gilt Sylke Twist….
I couched the lattice with green embroidery stranded embroidery floss, using one strand and a #11 needle. The lattice is worked in pink Gilt Sylke Twist.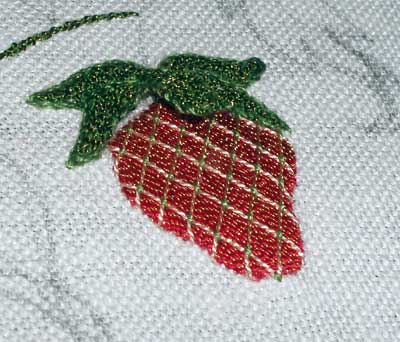 I tried to take photos that would catch the sparkle… side shots work really well, and you can't see the flaws as well, either!!
I like the pink GST with the red. The colors work well together.
This is a head-on shot of the strawberry. The left leaf there is bent up, but it does sit down over the edge of the top, so that white isn't visible.
And that's the strawberry worked in satin stitch with Gilt Sylke Twist. I'm going to remove the stem stitch line I worked first on that leaf stem, then work the leaf to the left of the strawberry, and work the stem stitch up the vein of the leaf and to the main stem. The main stem will be worked in heavy chain stitch. Then I'll figure out the blossom…
But in the meantime, I've got a couple videos to edit, so I hope to post a stitch or two this weekend for the video library, and I have the April embroidery stash contest coming up. I'm going to offer a meter of each of the colors of GST that are currently available (red, green, light blue blue, cream, and pink) and another goodie or two. So keep and eye out for that, and have a wonderful weekend!