Perhaps instead of "old linens," I should use the term "vintage," which has a much better ring to it! What about working your own hand embroidery on vintage linens? Do you think it's a good idea, or would it be a waste of time, since they're already… um… "old"?
I was considering the question of doing some hand embroidery – specifically, whitework – on vintage linens because I had the opportunity to acquire a couple vintage pieces that I liked.
One piece is a table runner or dresser scarf with a hand-crocheted edge all around it, and a very elaborate crocheted design with tassels on each end.
The crocheted edge needs to be pressed and re-situated, but you can see that it's a rather complex edging which could propose a problem for the embroiderer: I wouldn't want to mar the crochet with a hoop or snag it or anything like that! So that could be an "in-hand" job, if necessary.
The edging all around the linen is very pretty, and a bit simpler. I love the picot at the tip of each scallop.
The other is a buffet cloth – long and narrow, scalloped on three sides, with a straight edge that would run along the back of a buffet. The scallops are finished in an overcast stitch, and then a crocheted edge is added for a nice finish.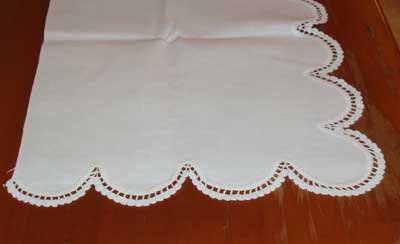 The linen on the piece is exceptional – a smooth hand, and a crisp finish. It's so nice! It's not slubby at all. It reminds me of Legacy's Ecclesiastical Linen – a perfect weight for whitework.
The edge is nicely done. The only flaw in the piece is a tiny whole at one point on the linen. I was thinking that, if I did do some whitework on this piece, I could use a pattern with eyelets and get rid of the hole by turning it into one!
These were offered as vintage linens from a reputable seller, and you can tell they aren't new, but I don't know enough about vintage textiles to approximate when they were made – they're not that old, anyway. The sheen of both is nice, but the second piece is certainly finer linen. It's a brighter white, while the first piece is slightly ecru and the linen itself is more coarse.
So, that is what I am contemplating – should I or should I not add further embellishment with some whitework on either linen? What do you think? Have you undertaken such a project before? Any tips?