Are you interested in adding some random threads and so forth to your embroidery stash? Here's your chance – at no cost to you. Each month this year, I'm doing a little give-away from my own needlework stash. Better late than never, here's the one for May!
There are a couple types of needlework threads here, a bit of silk ribbon, some buttons (not just any buttons, mind you…) and a snippet of waste canvas!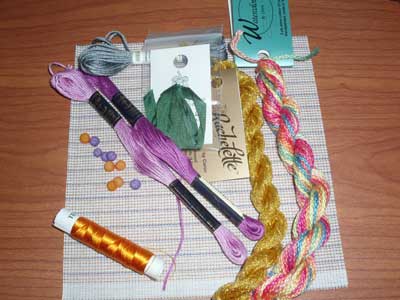 That's the little heap. It's all bagged up and ready to mail.
Here are the buttons. They're tiny little hand-painted buttons. Cute, aren't they?
Waste canvas is used over a plain weave ground fabric. It helps you manage even stitches in counted techniques (cross stitch, blackwork, petit point, etc.) or on lines of surface embroidery stitches (like herringbone or fly stitch or whathaveyou.) You stitch over the waste canvas, then carefully pull the canvas out from behind your stitching, strand by strand.
These are the threads. There's Rachelette, which is a kind of sparkly gold meshy thick thing, with a gold cord running through it, that makes a kind of bunched-up looking stitch. You can use it for couching funky designs, for ribbon techniques with a twist, or for needlepoint. Actually, I'm not really sure what it's used for – but I imagine it could be used in those ways. I bought it on a whim when I was at a little shop in Florida. I'm not sure what possessed me at the time. But it's kind of neat stuff. I'm sure there are ingenious people out there who know exactly how to use it!
Then there's a skein of Caron Watercolors – multi-colored and pretty. There's a spool of silk in orange. This is Helen Stevens's TESS silk, which is the same as Piper's silk. It's flat silk, and very fine. If you haven't stitched with this kind of silk, it can take some getting used to, but once you try it, I think you'll like it! There's nothing like flat silk for shine. You can use several strands at once to thicken it up a bit.
Next are two skeins of Anchor cotton, in shades of purple.
Next to that is a skein of Soie d'Alger, which is Au Ver a Soie's stranded spun silk. It's great stuff to work with, and has a beautiful soft sheen to it.
Finally, there's a little bag with a leftover, good-sized length of Glorianna silk ribbon, in a forest green.
Now, what do you have to do to be a part of the contest? You have to follow the "question" directions below, leaving your answer in the comments section on this post. If you use the "anonymous" feature to leave a comment, please sign a name, so when I draw names I know who's who.
The give away is open to anyone, anywhere. I'll ship via least expensive air mail. You'll have to be responsible for any customs or anything like that (if that's an issue), and I'm not responsible for lost or damaged packages. I hate having to say that. But that's that.
Question:
Ok, it's not really a question. Pick one technique from this list of embroidery techniques (that's a link, click it to get to the list), define it, and give one online resource (other than my site!) for that technique. You can use the list in the post, or pick a technique listed in the comments below the post!
I know, I know… it's work… but this way we can all learn something!
Don't think of it as work – think of it as fun! (I sound like my mother!)
Have fun!
(I'll post the winner on Monday, May 19th).