This month's embroidery stash give-away is a bit special, since yesterday marked the two-year birthday of Needle'nThread! Here's hoping it's not the beginning of the "terrible twos"! I'll send out two packages this month with some nice embroidery threads and accessories inside.
In fact, this if the first time it sort of "hurt" to do the embroidery stash give-away! It's awful of me to admit that, isn't it? I wanted to include something special, so I decided to include a Kelmscott Needle Minder in each one. I have three of these – they're brand new, and I've been itching for them for a long time! I almost thought, "Nooooooo, I'll keep them for me," but then I thought, "Noooooo. I won't!" I'll keep one, and give the other two away. These are handy little items for the embroiderer.
You place the needle minder on the top of your fabric, and put the connecting magnet on the back of your fabric. The magnet holds your needle on top of the decorative piece. Usually, I like to have something to stick my needle on when I've finished stitching with a color, but am not ready to end the thread. I bring it to the front of my fabric and stick the needle somewhere convenient, until I need to use that thread again.
Each package will contain a bunch of embroidery goodies! 6 types of thread, a packet of beads, a nice charm for embellishment, and the needle minder.
It also contains two mother-of-pearl thread rings, which you can see on the green Vineyard Silk thread and the two colors of purple floche.
To mention the fibers in particular, in one package, there's a metallic floss, a twist of "Dragon" thread, which is an over-dyed cotton, a silk floss (in this package, a dark green Gloriana silk), some lengths of Vineyard Silk (kind of a wool-like thread, but it's made of silk and has a beautiful sheen), and two shades of purple cotton floche.
The second package is exactly the same, but with a different shade of Dragon thread and instead of Gloriana silk, there's a skein of dark green silk from Needlepoint, Inc.
In one package, there's also a little enameled silver filigree heart charm and a package of green Mill Hill glass beads.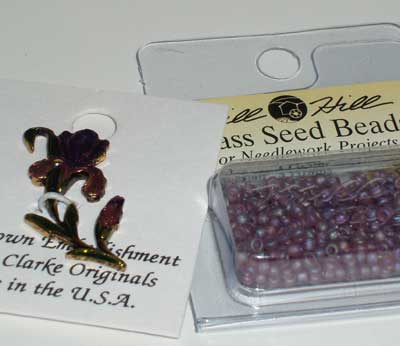 In the other package, the charm is a very pretty iris, along with a package of frosty purple Mill Hill glass beads.
So there's what I'm giving away, to celebrate my website's birthday!! Calculating it all up, I think it's safe to say there's over $30 worth of merchandise in each package! Wow. Well, they were fun to put together!
BUT – to get one – you have to do something!
The way it works is this: I'll pose two questions below, and you post your answers in the comment section below this article. Next week, I'll draw from the names of those who post comments, announce the winners who will then contact me with a mailing address. I'll ship anywhere in the world, via least expensive air mail, but am not responsible for any customs fees, lost mail, or anything like that. I'll post the winners on Wednesday, June 11th, so you have until Tuesday night to comment.
Here are the questions:
1. What is your favorite feature of Needle 'n Thread?
2. What would you like to see more of on Needle 'n Thread?
I'm sure your answers will help me improve the website, so don't be shy!
Enjoy the weekend!