Yet another monogram for hand embroidery – the letter "S." I've been posting twice a day, with the intention of getting this whole monogram alphabet online for you – but I don't know if I'll be able to keep up the pace! We'll see. It's been kind of fun and challenging, anyway! If you've liked this monogram alphabet so far, I think you'll really like the "S." It's pretty!
I think I may have given the impression previously that monograms can only be hand embroidered using specialty threads, like coton a broder. Not so, not so! In the next couple weeks, one of my summer embroider classes will begin monogramming a hankie. They're using DMC stranded cotton, and I'm sure it will turn out just fine! I'll post photos of the class sample as soon as I work it up!
For the rest of this monogram alphabet, please visit my Index of Monograms for Hand Embroidery. You'll also find it listed on my Free Hand Embroidery Patterns page!
And so, here's the S – Enjoy!
Favorite Monograms – PDF Collection
You'll find this complete alphabet – along with 15 other decorative alphabets – all in one place in Favorite Monograms, a downloadable PDF collection of 16 monogram alphabets perfect for hand embroidery and other crafts.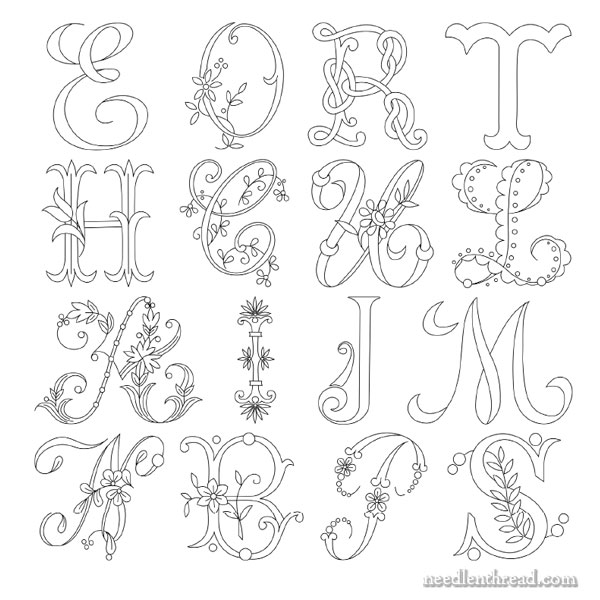 In the photo above, you can see samples of each alphabet available in Favorite Monograms.
Each letter in each alphabet in Favorite Monograms has been carefully traced into a clean line drawing that can be easily enlarged or reduced on a home printer or a photocopier.
The 16-alphabet collection is delivered as via a download link to your inbox shortly after purchase, so that you can begin creating right away! Priced at less than $1.00 per complete alphabet, monogram lovers can't go wrong with this collection!
Favorite Monograms is available in my shop, here.