A few readers have recently sent me some photos of their own embroidery work, and coincidentally, they're all table linens of some sort! Hand embroidery has been used to embellish items for the home for ages, and I love to see that it's still done for that purpose. Marlena sent along photos of two table cloths she's done – one is complete and the other is in the works.
The first embroidered table cloth Marlena completed, she framed! Because she has little kids, she figured it was a good way to preserve it from paint and dirt.
I love the colorful ring of flowers, don't you? Daffodils have always been a favorite of mine!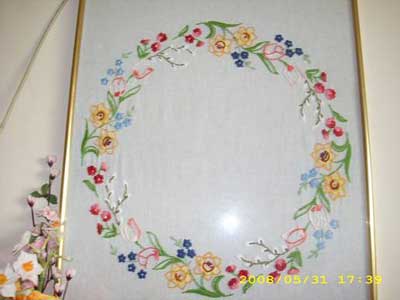 Here's the piece framed up. I would have never thought of framing a tablecloth to preserve it – it's a good idea, since she still plans to use it in the future. In the meantime, she doesn't have to pack it away in a box and can still enjoy it.
Here's the second flowered tablecloth. I love the shades of blue! I meant to ask what type of floss she's using (sorry!) and how many strands, so Marlena, if you read this, do let us know!
Here's a close-up on the embroidered flower. Very nice!
And the work progressing in the hoop!
I was really happy to receive these! Thank you for sending the pictures, Marlena!
One of the reasons I find it delightful to see embroidered table linens right now is because I am STILL in the throes of preparing my summer classes. I hope to take a few days off work before they start, so that I can devote some concentrated effort to patterns and stitch directions. We'll be working on some household linens, too – the kiddos are doing kitchen towels at one point, and the adults have some monogrammed guest towels on their list.
The way things are turning out, I may end up with a theme of posts this week on embroidered household linens! Margaret sent along a tablecloth embroidered with strawberries, which I'll have up for you to admire, too.
Thank you again, Marlena! Congratulations on your very fine work!