Here's the latest monogram for hand embroidery – the letter N.
Because of the turns on the N, if you're planning to satin stitch this monogram, you should think in advance of your stitch direction. When you embroider a letter, you want the stitch direction to make sense – that is, you don't necessarily want to change the direction of your stitching on each different "leg" of the embroidery. Try to keep an overall consistent stitch direction in the main parts of the monogram.
When you start thinking about stitch direction on something like this letter, things can start getting confusing. I suggest marking in your stitch direction lines before you begin to embroider, using a very light pencil.
Of course, monograms are not relegated to satin stitch only – you can use all kinds of stitches to fill, including long and short stitch, stem stitch used as a filling, chain stitch, split stitch, and so forth.
Well, here's the "N" – I hope you like it!
Check out the rest of the available letters of this monogram alphabet, which you'll find listed in the Monogram Index.
And, next up is the O and the Q, which are incidentally the same monogram – you have to remove the tail for the Q – which I may do in advance for you, just to avoid the confusion!
Have fun with it!
Favorite Monograms – PDF Collection
You'll find this complete alphabet – along with 15 other decorative alphabets – all in one place in Favorite Monograms, a downloadable PDF collection of 16 monogram alphabets perfect for hand embroidery and other crafts.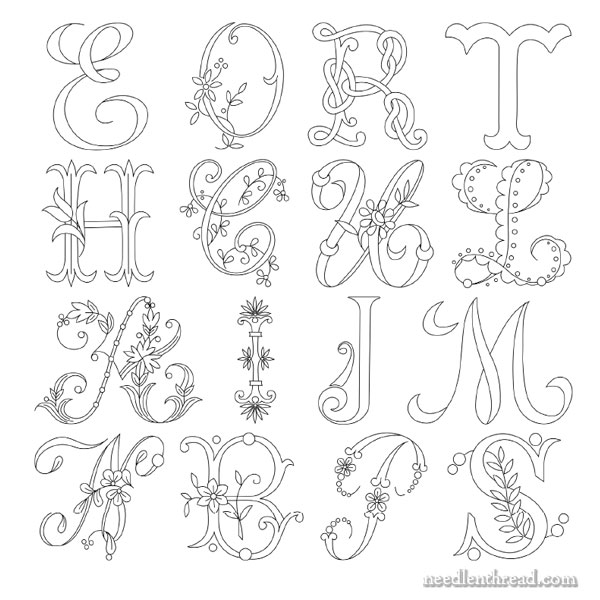 In the photo above, you can see samples of each alphabet available in Favorite Monograms.
Each letter in each alphabet in Favorite Monograms has been carefully traced into a clean line drawing that can be easily enlarged or reduced on a home printer or a photocopier.
The 16-alphabet collection is delivered as via a download link to your inbox shortly after purchase, so that you can begin creating right away! Priced at less than $1.00 per complete alphabet, monogram lovers can't go wrong with this collection!
Favorite Monograms is available in my shop, here.