When you get beyond the beginner stage of hand embroidery and move into more complex forms, you may find that you wish to expand your collection of tools. An indispensible tool for the serious embroiderer – especially if you get into goldwork, silk shading, and other complex techniques – is the slate frame.
I've found a source in the US who provides hand-made slate frames that are sturdy, beautiful, and in all regards, as far as I can tell, really perfect. I spent a good part of today (July 4th) playing with mine, dressing it in a nice piece of linen. The finished product was worth the effort!
Before I launch into this, I also have a tutorial on how to dress a slate frame for hand embroidery – if that's what you're looking for, rather than a source.
On with the news!
Mr. Evan Burroughs, located in Salem, Oregon, makes slate frames for the hand embroiderer! This was such an exciting piece of news for me, because, for the longest time, I couldn't find a source in the US. Sure, slate frames can be ordered from Britain, but – combine the exchange rate and the shipping, and they are expensive!
When Evan fell out of the sky into my e-mail account one day, I was really thrilled and eager to try his frames.
He makes three sizes of frames. The smallest frame accommodates a piece of embroidery about 10″ x 10″, without having to roll the work. The medium size accommodates a piece from 16″ – 20″ wide, with stretchers that will accommodate a piece about 16″ long before having to roll the work. And the largest size accommodates a piece about 24″ wide by about 28″ long, before you'd have to roll it.
The frames are made out of beech, which is strong wood. The pins are stainless steel cotter pins (rather than the traditional wooden pegs), which allows the pegs on the side stretchers to be placed in 1/4″ increments, giving you really good control on the stretching.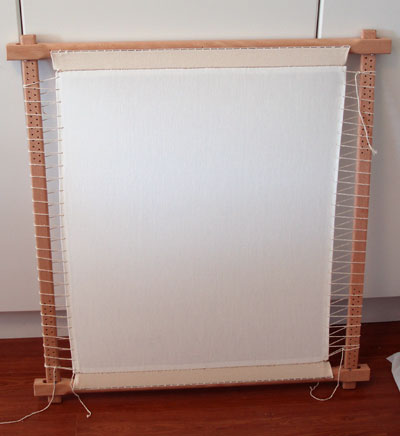 If there were some way to allow you to feel what you're looking at in that photo, you would understand my infatuation with slate frames! The fabric is perfectly smooth, perfectly taut all around, and oh-so-ready for my next project! Isn't it just beautiful??
The frames run $59 (small), $69 (medium), and $89 (large). Remember, they are hand made, and they will last you a life time – and then some! As far as the workmanship goes, my experience with mine is this:
I LOVE IT. The wood is smooth as glass, the frame feels in all respects sturdy, everything fits together really well, and… wow. It's just really nice! When you're working with it, you know it's "real" – it's not cheaply made, plastic, or flimsy. I think it's a work of art!
Evan is also the fellow behind the Evertite Stretcher Bar frames – which I hope to try soon. I've got one set that I want to mount a bird project on; as soon as I do, I'll let you know what I think of the Evertite frames.
If you want to take your stitching to the next level and invest in a slate frame – or if you're like me, and you've been looking high and low for ages for a source for slate frames – do contact Evan. You can visit his Evertite webpage, where he has his contact information listed. When I arranged for my frame, he said he generally has a few sets of each size of slate frame on hand; if not, his production time runs about a month. It's worth the wait!
Now, after all the gushing, I have to add a little glimpse of reality for you. A slate frame is not an "easy" option for the embroiderer. It takes much time to dress a frame, and it's hard work. The end results are worth it, no doubt, but before you delve into a slate frame, do understand that it takes some effort to set up the frame. (I'm typing with sore thumbs…)
That having been said, I think it's the best way to set up a large project, especially one that will take you some time. The tension lasts forever, and can be adjusted repeatedly without having to take the frame apart. Read "Dressing a Slate Frame" to see how the whole process of setting up a slate frame works.
And finally, just so you know, Evan Burroughs and I are not affiliated – I'm just a very, very happy customer who is so pleased to be able to tell you about his handiwork! Do check him out – and tell him I sent you!
(Update, 2021: I don't have contact information for Evan Burroughs at this time. His website is no longer in operation.)