I happen to have an extra copy of a pretty nice book that I think you might want (for you – or maybe as a gift for someone else?)… so I thought I'd do a little give-away and ask you a Very Important Question!
The book is Trish Burr's recently published Crewel and Surface Embroidery book, which I've reviewed here on Needle 'n Thread.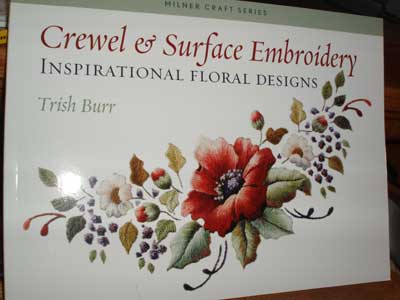 This is a gorgeous book! And if you've wanted to tackle long-and-short stitch shading but are perhaps intimidated by the techniques, this book will help you overcome your intimidation. The floral projects are arranged in order of ease, from beginning to advanced. For more details on the book, feel free to read my review.
Now, to be eligible to win, you have to answer a question in the comment section below. To do this, you scroll down to the bottom of this post (on the website, not on the newsletter) and click the link that says "Click to Comment" under the "Posted by" information.
The question is posed by Trish Burr this time, not by me. It isn't too often that, as a consumer, you get a chance to give input on what you'd like to see in a book, but here's your opportunity. Trish is gearing up for a new book, and she's exploring two options:
1. Needle Painting Basics:
This would be a guide to stitching flowers, birds, animals, people etc. How to direct your stitches for the different type of motifs, how to choose the right picture for reproduction etc etc. It would be aimed at the beginner and beyond but might also be helpful to the advanced needleworker.
OR
2. Color blending for Embroidery:
This would help the reader to choose color combinations for shading in embroidery. It would be made up of sections on each color e.g. red, blue, yellow etc and each section would show a number of combinations that could be used for each color scheme from the color chart. The idea behind it would be that the reader would learn to enhance their needle painting (or any other needlework projects) by the correct use of color. The color combinations would be visual and listed by number so that they could refer to it for future projects, and the book would contain sample projects worked in various color combinations. The book would apply to long and short stitch, but also to other techniques where shading and color blending are required.
The question is: which would you prefer, and why? or which do you think general audiences would prefer and why?
Leave a comment below, and your name will be entered for the drawing, which will take place next Friday (September 19) at 4:00 am (the deadline). The drawing is open to all readers around the globe.
It's probably not too often that you can give input on a book and voice your preference! So speak up – don't be shy.