For those of you who have been longing for the return of the Royal School of Needlework courses after the Perry, Iowa location closed, you will be happy to know that the courses are being offered again in the US at a new venue. Thanks to Margaret, here's a bit of information on that…
I knew that the Royal School of Needlework had established a new venue in San Francisco and that they would be offering their certification courses there, beginning this fall. The certification courses are the more expensive, time-intensive (three weeks, I think) courses. Since they had an RSN graduate in CA, in the San Francisco area, once they found a venue, they were able to offer these certification courses again.
But for those of us who can't afford the time or investment for the certification courses, the day classes offered by the RSN are more ideal. It took some coordinating on their part, but it looks as if they're planning to offer day classes from April 29 through May 15 this coming spring! Isn't that exciting??!!
If you want to find out what types of day courses the RSN offers, you can check out the Royal Schol of Needlework website, where you'll find all kinds of information on what they offer.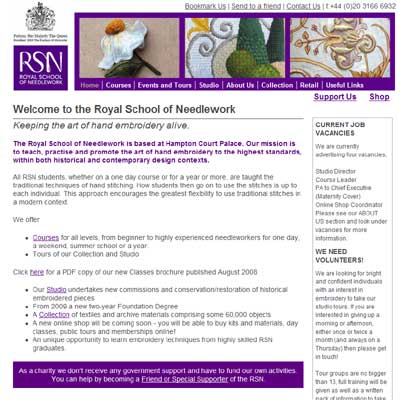 Specifically, you may want to take a look at this PDF brocher that outlines the courses offered by the RSN. Right now, they haven't published the information on the day courses being offered in San Francisco, but at least, with the brochure, you can get an idea of the quality and subject-matter of the different classes.
If you want to receive information on the course offerings in San Francisco in the spring, there's contact information on the RSN site for Gill Holdsworth, who is the head of education at the Royal School of Needlework. Drop her a line to let her know you're interested, so that you can be put on the list when the information goes out. It's also a good idea to let her know that there is an interest over here for these courses, so that they know it's worthwhile to go to all the effort it must take to coordinate such an event!
Thanks, Margaret, for the info, and thank you, RSN teachers, tutors, and coordinators, for making the effort to restore these classes in the US!