That's what I was told. "Put up your needlework!" Bemoaning the fact that, as of yesterday, I still didn't have a tree up and that everything just seemed too cluttered to concentrate on decorating for Christmas, my sister suggested, "Put up your needlework!" Ah. The death knoll of needlework!
The fact is, I'm still far behind on my needlework gifts. In fact, it is not likely that I'll be finished with the berry and pine cone towel, though I am on the second pine cone now and I have finished the first bunch of berries. (There are three pine cones and two bunches of berries, not to mention all the pine needles – but those go super fast…).
It was an interesting proposition: if I put up my needlework, would I be more inclined to take care of the Christmas decorating? So I tried it.
I decided that I was not going to put my needlework "UP" (as in, permanently AWAY). Rather, I wanted it accessible but organized, and tuck-away-able.
The first thing I did was take stock of what I was putting away. Now, there's nothing worse than making a bigger mess when you're cleaning up than you had before you started cleaning up! But that's usually the way of it with me when I start "organizing." I didn't really take photos of everything, because I wasn't (by a long shot) intending to write about my present state of general disorganization!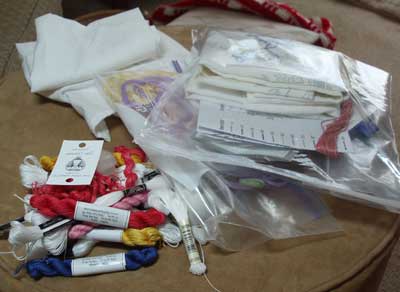 There was this pile of threads and projects that were actually tucked in a bag on the far side of the sofa, where no one really sees it, unless they come all the way into the living room.
Then, on the sofa, in a complete state of disarray, were the projects I'm currently working on.
And then there were three packages of various supplies that I have ordered recently, all still in their envelopes, also tucked on the far side of the couch.
Yes, I agreed with my sister. "Put Your Needlework AWAY!!!" The living room, where the tree goes each year, is just too small for inordinate amounts of clutter. I don't like clutter – I don't like knick-nacks and things like that. When things get cluttered, I just want to sell the house and move somewhere empty. But in my frenzy to get gifts finished, stuff was piling up.
It was time.
To put my needlework away, I required two things: a box of gallon-sized zip-lock bags and a larger something to put the bags in. Fortunately, in my recent goldwork order from Hedgehog, the Hedgehog people were very kind to include a handy-dandy free tote bag. Perfect!
I took each project and all the threads and other supplies (sometimes even hoops) related to it, and put it in a zip-lock bag.
And then….
…I tucked all the zip-lock bags tidily into the tote, which I stowed away in the studio, ready to pull out in the evening when there's time to stitch. I can take one project out at a time, and, when stitching time is up, put it back in the zip-lock, back in the tote bag, and back out in the studio. No clutter, and all is ready to decorate.
So here it is, Monday morning, three days until Christmas! And what do I have to show for it? My tree is up and decorated, the nativity scene is up (well, I did that a week ago), there's one pathetic string of greenery around the top of the porch, with white lights in it and too many red bows (and no extension cord, so it doesn't work, anyway!), and… now it's time to get to work!
Gifts to wrap, some finish work to do on the sewing machine, laundry to do, some baking and … baking, and …. baking.
I still plan to get some stitching in this evening, if all goes well. I hope to show you a finished berry / pine cone towel by tomorrow evening!
Oh – and I have a last minute Christmas tutorial for you. Well, I bought these very nice red cloth napkins for the table. It was a great bargain. And they actually had 18! So I bought them. But they clamored for embellishment. I'll show you what I did…. tomorrow? Hopefully!
In the meantime, I hope your preparations for the holidays are going well! Enjoy your Monday!
(Did I mention I'm on vacation? It's G-R-R-R-E-A-T!!!)