The article on the needle roll made out of felt sparked a couple questions about what I keep in my needlework toolbox. I never really considered carefully what should be kept in a needlework toolbox; instead, my collection of tools has grown pretty much out of need. It's an eclectic bunch of little things, all of which I have found use for in varying degrees of frequency. No doubt, the ideal contents of a toolbox will vary among embroiderers.
This is my stash of tools that I keep encased in a box in my embroidery basket.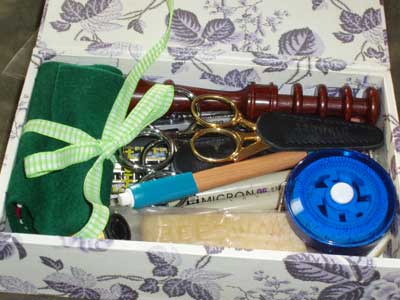 Upon first opening the box, this is what you see – a more or less generally cluttered disarray of stuff.
There are, of course, scissors. I have eight pairs of scissors, but only three that I use regularly. One is used exclusively for goldwork, and the other two are used interchangeably for snipping threads and bits of fabric.
There are three measuring instruments: a small retractable tape measure (courtesy of Hedgehog Handworks), a 6″ x 1″ quilter's ruler, and a hem measurer (for lack of the correct name of that thing). I use them all pretty frequently, but probably the hem measurer and quilter's ruler most often.
You'll also find some… well, tools, for lack of a better categorical name. From top to bottom: tweezers, a laying tool, a tiny crochet hook, and a mellore all get used pretty frequently. I use tweezers to manipulate goldwork thread, to pick up tiny things, to pull out thread bits, and so forth. The laying tool (with a sharp tip that can be used as an awl) is used to keep threads in line. The crochet hook comes in handy for pulling threads through in tight spots. And the silver mellore is used to manipulate metal threads.
I keep some very large needles on hand – these are upholstery needles. I don't use them much, but they come in handy for lacing up fabric and so forth. The needlethreader is rarely used, but I do admit that in a tight spot, for teeny tiny needles (minute beading needles and sometimes a #12 crewel), I use it if I need to. And you can also see a bunch of cotter pins that anchor the slats on my slate frame.
This is a leather thimble. I never use a thimble, normally, but sometimes, if I'm working on something that's tough to get a needle through, I do slip this on for extra protection on my middle finger, which is the finger I generally use for pushing my needle. I have a permanent callus on that finger from my needles, but if I'm using a smaller needle, it often has the uncanny ability to find the one weak spot in the calloused area, where it decides to slip eye-first into my finger. That can be painful. So now and then, and leather thimble can be helpful.
I keep three types of pencils and pens in my toolbox: two are micron art pens, one is a mechanical pencil, and the other is a white chalk pencil for marking on darker fabric. You just never know when you might need to make an adjustment in a pattern or draw something on a piece of fabric. I use all three of these fairly often.
This is a spool of silk couching thread that I use for goldwork. I don't know why I keep it in the box, but I do. I think it's just so that I have some thread in there.
This is a magnetic needleminder. All my metal tools in the box find it at one point or another. I use this on larger projects where I might have several threaded needles going at once. Right now, I'm not working on any large projects, so it's in the box!
This is a brick of beeswax for waxing threads, especially for goldwork. You never know when the urge to wax your thread might strike! But when you're working with metal threads, most of your couching thread will need a nice coat of wax on it. I love beeswax. I like the smell of it!
This beautiful tool was treat. I bought it when Twining Thread was still in business. I miss Twining Thread! This is called a Soldier's Friend. It's made out of the slickest, smoothest, prettiest wood. Around the notches, you can wind extra lengths of thread, and the end comes off the handle to provide a storage place for needles. I don't "use" it a lot, but until the other day, I did have thread wound on it. Isn't it pretty? It's probably the most decorative of my tools, and the least used. But I do like it, and I have used it, so it's not really just a decorative, non-functional tool.
This is a mother of pearl thread ring. I usually have six or so of these floating in the bottom of the box, either in the large size or the small size. But right now, I've got the rest of them trussed up with thread.
And, finally (you might find this odd!), I keep fingernail clippers and an emery board in there, too, for smoothing or clipping fingernails when they become snaggy. I don't like sitting down to embroider, only to discover a chipped nail before I start, and then having to go find these two items! So I bought a set specifically for my tool box, and you'd be surprised how often I actually DO use them! They're great to have right on hand!
Along with all this is my needle roll, and it all tucks very nicely into this box with a little silk ribbon embroidery on the lid. The box has a pretty firm magnet seal. It holds the lid closed even upsid
e-down with all that stuff in it, so if it tips over or is knocked off the couch, or whatever, it usually stays tightly closed.
I have other tools that aren't kept in this box. In fact, I have two more similar boxes, but I don't use them much, and the tools I have in them aren't as serviceable as those shown here.
So that, my friends, is what I keep in my box. What do you keep in yours? Is there any item you're surprised I don't have? Or anything here you think particularly odd? Out with it! Let's talk tools!