How do you keep your embroidery needles secure in one spot? Do you use a needle book? A pin cushion? A needle box, or a needle tube? I'll show you what I use. You probably won't be THAT impressed! But, hey. It works!
I've always wanted to make a Really Pretty Needlebook, one that looks nice but is comfortably functional and can hold a lot of needles and take up minimal space. I haven't done it yet. I made that felt tool / needlebook thingy, but that's not really what I had in mind, and that whole project was a bit of an accident, anyway. I was thinking more along the lines of something a bit more upscale, like the needlebook patterns you often see in Inspirations Magazine, or something along those lines.
Instead, my needle storage is a little… well. Haphazard, if you can call it that.
Just for reference, I'm referring to the needles I use daily – the ones I reach for when I sit down to embroider. One day, about a year ago, I was cleaning up. You know how it is when you're cleaning up? Well, when I clean up, I get into a kind of organizing frenzy, and I generally find that I am dissatisfied with the way something or another is organized (or not organized) in the mess I'm trying to clean up! On this particular clean-up day, I was cleaning up my needlework basket. I didn't like my needle receptacle, which was a plastic case called a Needle Safe, which has a magnetic base. All my needles invariably got dumped in there, only to become mutually attracted to each other and settle into various lumps of Magnetic Bliss. They didn't lay out where I could see them well. No, no. I just didn't like it.
So I improvised a little needle roll, telling myself it was only temporary, until I made my Ideal Needlebook.
For a year I've used this little Thirty Second Improvisation Job, and I realized the other day that I like it a lot! It has served me well.
If you're looking for a handy way to store your daily needles, you might try it, too. This is a super-easy way to make a needle roll, it'll take you about thirty seconds to make it, and, if you have some scraps of wool felt on hand, it won't cost you anything – not even time!
Here it is:
I took two scraps of wool felt in contrasting colors. I had some scraps of dark green and some scraps of a kind of cranberry color that were pretty nice, so I figured they'd do. They were both long rectangles.
The green felt is about 3.5 inches high and 8.5 inches long, but you can make it higher or longer or shorter or whatever size you wish, as long as its height is enough to accommodate the length of your longer needles. The cranberry felt is about half an inch smaller all around than the green felt.
I then cut two little slits in the green felt for a ribbon (the plaid strip in the diagram above). There's one slit on one end of the green felt, and one slit about two inches from the first slit, towards the middle of the green felt. They're just tiny slits, for a quarter-inch ribbon. I didn't stitch around the slits or anything. I just snipped them and ran a ribbon through them as illustrated, and that was it.
Then I placed the cranberry felt on top of the green felt. I didn't sew it on or anything.
The way I figured it was that the friction between the cranberry and the green felt would hold the cranberry felt in place. Actually, as I stuck needles in, the needles helped secure the cranberry felt to the green by passing through a bit of the green, too, but the felt is thick enough that the needles don't pass through the outside of the green felt.
I rolled it up from the right side of the needle roll, towards the sides with the slits, and tied the ribbon around the roll.
And my needles have been happily encased in this makeshift needleroll for a year now. It's a convenient, user-friendly roll that took about 30 seconds to put together.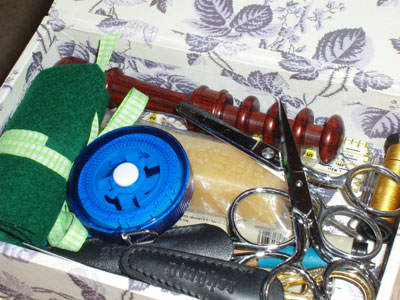 It fits perfectly into my little tool box, which fits perfectly into my needlework basket!
So, how do you store your daily needles? If you're looking for a convenient way to store them and you have some scraps of felt lying around, try this! You might like it, too!