You know I like goldwork and silk shading – they're possibly my favorite embroidery techniques – but … wow… this piece makes everything I've done with goldwork look rather dull. It's like the sparkling city cousin that the country mouse can't hold a candle to! This bright splash of color and gold was an exercise in creative goldwork from a Royal School of Needlework course that Margaret took back in 2007.
The project is worked on a background of silk dupoini woven in purple and red. Predominantly, the purple shows up, but you can see the reddish highlights in the photo. It's a gorgeous fabric!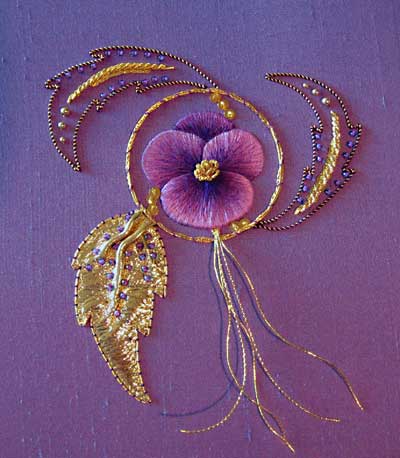 I think the whole piece is beautiful, but the part of the piece that intrigues me the most is the bold leaf on the lower left, which is made out of gold kid leather. Rather than try to explain it myself, here's Margaret's description of the technique:
What was interesting was that we had a basic outline for the leaf and a piece of leather that was larger than the outline (at least at the top). Starting at the bottom we tacked down the leather to hold it in place. Then at the top we manipulated the oversized piece to fit within the design lines. This let us create the veins. So, everyone's leaf was different, of course.
I love the leaf, with it's bulging gold veins – and my hat's off to anyone who would stitch it and not scream before it was over! Yeeeeesh. I don't particluarly like stitching kid leather, but I'd like it even less if I had to manipulate it and squeeze it into an area! I think it turned out so pretty, though, that it's sort of tempting to want to try something similar.
Here's the finished project, framed up:
Isn't it gorgeous?
Thanks, Margaret, for sending the photos! Margaret, by the way, is the one who designed the Golden Pomegranate project I stitched last fall.
When Margaret sent me these photos, I came to the realization of something that I find rather funny, and I'd love to hear what others have to say about the same subject! It went like this: Margaret sent me photos of her frame jobs on three gorgeous pieces of embroidery: the Golden Pomegranate (hers is matted in greens, with a gold frame), her goldwork rose, and this goldwork project featured here. When I saw the three framed, I thought, "WOW – wouldn't those make a gorgeous set to hang together on a wall??!" And that's when I realized something…
And this is what I realized: in my house, I have one tiny bird I embroidered that's framed and hung. Other than that, I don't have one finished thing that I've embroidered. Everything else I've done has been given away, or was made at the request of someone else.
Ok, wait – with the exception of my silly pillowcases and my goofy felt needlebook thingy. And, no, I don't use the pillow cases myself.
My question is this: do you retain your work, or give it away? Are you fortunate enough to have nice embroidered things around your house? I just realized how nice that would be.
But how does one remedy that? I can't exactly go snatching up the things I've given away. And I wouldn't, anyway. Deep down, I wouldn't want to. (Or wait – maybe deep down, I do want to….!)
I was thinking that a resolution of some sort could help solve this: each year, I could make at least one nice project for the house. It doesn't have to be a big project or a major deal – just one nice something to be finished and framed.
Well, now that I'm thinking along those lines, I suddenly want to make another pomegranate or grab a silk shading project and ditch the whitework sampler!
Yeah. Thanks a lot, Margaret! 😉