This month's stash give-away is really perfect for building your embroidery stash – and the perfect opportunity to try a variety of needlework fibers! I'm giving away a dozen embroidery threads, each a different type.
All twelve threads are full skeins, never used before. They're new! And they're fun!
Here's the whole give-away….
Half the give-away is comprised of silk. There's Gloriana, Dinky-Dyes, Silk 'n Colors from Thread Gatherer, Needlepoint Inc Silk, Empress Silk, and a whole spool of Japanese Silk from the Japanese Embroidery Center.
The other half of the give-away is made up of synthetics, cotton, wool, and soy.
There's Needle Necessities Cotton, Overdyed Rachel, Charleston (the sparkly stuff), and wool, plus a skein of Soy Luster, and a skein of Caron Watercolors.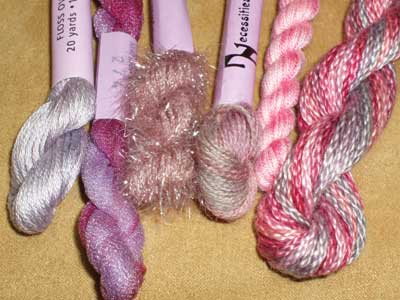 The hues in this half of the stash are pretty much purples and pinks.
So, if you're a fiber fanatic or a thread junkie, you might enjoy picking up 12 new skeins of a variety of threads, to dabble with! If you're new to the whole needlework field, this is the perfect opportunity to give some different threads a try, for the fun of it. If you're a crazy quilter – well! What couldn't you do with these threads? And maybe there's just one thread in there you're dying to try – if that's the case, go for it! You can always pass the rest on to someone else to play with! And, if nothing else, this would make a nice little package for you to share with another needlework friend – you can always make a little gift out of parts of it (or all of it!).
Now, the fine print – the contest rules:
1. Leave a comment on this post. To do so, you must be reading this post on the website. If you're reading the e-mail newsletter, just click the title in the newsletter to go to the website. Scroll down to the end of the text here (on the website) and find the line that begins "Posted by." Right underneath the date, you'll see a link that reads "Click to Comment." Click that link and leave a comment. You can comment without signing in by clicking "anonymous."
2. Answer the following question:
What's your all-time favorite embroidery book? (If you don't have one, tell us what embroidery book you'd like to have… If you don't know what's out there, you can browse books under my needlework book reviews or in my bookstore…)
3. Make sure you sign your name to the comment!
4. Check back on Wednesday, February 25th, when I post the winner, which is drawn by random number. If it's you, you'll need to contact me with your address.
The contest ends Wendesday, Feb. 25th, at 5:00 am CST. International readers are welcome to comment, too. I'll ship the package via the least expensive air-mail option, should an international reader win it.
Feel free to let your stitching friends know about the give-away, too!
Good luck!