Strangely enough, this is not a "my favorite things" post, nor is it a foodie post, nor am I going to show you the big mess I made spilling olive oil all over my needlework. But if I were making a list of favorite things, I'd admit that these three would be on it, in some form or another. And if this were a foodie post, either olive oil or sugar (or both) would probably be in the mix. However, if I had spilled olive oil on my needlework, the title of this post would be unfit to publish! No, no. It's none of the above…
This is a needlework tip!
I'm suffering from "winter hands" right now. No matter what I put on them – I slather them with lotion several times on a daily basis – I can't eliminate some of the chapped areas. Part of the chap comes from working with my hands, whether it's doing dishes, doing other daily chore-ish tasks, writing (with pens), writing on a chalk board (oh, horror! I hate chalk this time of year!), or even developing needlework calluses. But part of it is just simply the time of year. It's winter. The heat in the house dries things out, and the lack of humidity in the air outside, along with the cold and the wind, doesn't help!
And so, now and then, I find myself getting lizardy.
And when it comes to working with threads, lizardness isn't pleasant! I can't stand the snagging. Cotton is bad enough, but try working with flat silk! Aaaack! The frustration is endless.
And that brings me to this tip – an easy way to smooth up your hands using ingredients you probably have in your cupboard: olive oil and sugar.
Pour a tablespoon of olive oil in a dish – a small bowl works best (much better than a little measuring cylinder).
Add about a tablespoon of sugar. The mixture doesn't have to be precise, or anything. You just want to create a wettish pumice, really.
It's amazing how yellow olive oil looks with sugar in it. Mix the oil and sugar together well….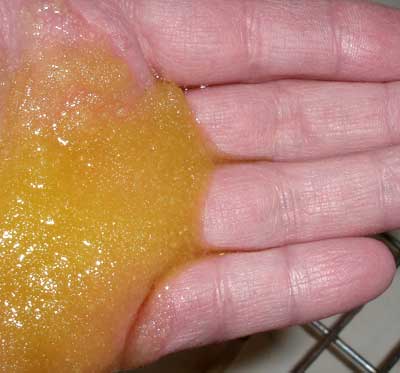 … and glop the stuff into your hands. MMMmmmmm. Doesn't that just look – oh, nasty? This consistency works great for me – most of the mix stays together, but there is enough liquid in it that a little bit oozes its way through the fingers.
Now, scrub your hands. You can do both sides, and while you're out it, concentrate on the finger tips, giving them extra attention.
Once you've worked the mix around on your hands for a while, use soap and warm water to wash your hands thoroughly, then pat them dry on a towel. They're feel great!
It doesn't necessarily eliminate every bit of roughness on the hands, but it certainly minimizes the snagging. A daily treatment while the hands are really rough will make a difference, too.
Any tips for hand treatments when dealing with winter skin? Do share!