Last week, I set up a "grab-and-go" embroidery project that materialized into a fairly nice Easter gift for my sister's family. The project was an embroidered flour sack towel, with a spring garden design on the corner. I ended up using it to line a matching basket, which I filled with Easter candy and took to the fam. Here's the completed project.
As Easter approached, I didn't think I was going to finish the embroidery on this. By Thursday, this was the extent of my progress…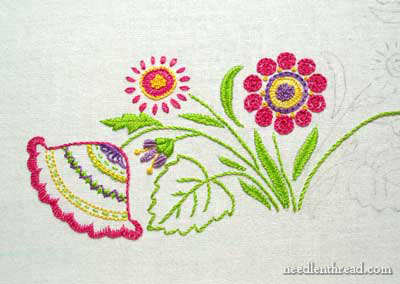 …and I still had to work the tulip in the corner and the other side of the design.
The bulk of my stitching time actually came on Easter morning, when the world (at least at my house!) was relatively quiet. After going to church very early, I went home and started stitching. By 11:30 am, family and friends started popping in, but I was determined to keep stitching – I was too close not to finish!
The corner tulip ended up mostly purple, with pink highlights (opposite of the two end tulips)
I only finished the one corner. When I first set out on the project, I was wanting to stitch two opposite corners. Ha. Well, I'm perpetually an optimist on that kind of thing – I never gauge correctly how long it takes to embroider something!
I chose a rectangular woven basket in bright pink, to match the flowers. After finishing the towel, I washed it and, being in too much of a hurry, I only let it dry part way, then I tried to iron it dry the rest of the way!
Have you ever ironed something dry? I do it to linen all the time. But the strange thing about ironing something dry is that the thing can feel dry, when it isn't actually dry-dry.
Yep. That's what happened here. The towel was still just the slightest bit damp here and there when I arranged it in the basket. I know, because the jelly beans took on a kind of clammy skin after a bit. "Oh, that's just from kids rummaging through…" No, no! The m&m;'s – you know, those things that melt in your mouth and not in your hands? They melt on damp towels!
When I realized what had happened, I pulled the towel out of the basket! But not before I got a shot of it with this little fellow:
… and not before the towel was completely bespeckled with pastel-colored-candy-syrupy-sticky-splotchy-gunky mess!
Did I take a picture of THAT?
No.
Remember what your mother always told you: Haste makes waste! And learn from my experience! Rumor has it that the Laundry Queen at my sister's house (that would be my niece Julie, who likes doing laundry for some bizarre reason) has removed the stains, and all is well again with the towel.
Now, isn't that bunny just the cutest thing in the whole wide world?