Sounds a bit self-centered, doesn't it – a "Happy Birthday to Me" give-away? I guess as long as I'm giving away the gift, I can get away with the title within the bounds of decent etiquette!
I've been chuckling over this give-away idea for a few days, wondering just how people would react to it. I realize I may get very little participation! But I can't help it – my curiosity has the better of me, and now that I'm locked in on this idea, I feel compelled to try it! Besides, it's my party, and I'll try if I want to!
Oh, gosh. I'm cracking up!
What is she babbling on so about, you ask?? Well, read on….
Here is my Happy Birthday to Me Give-Away:
The charm of birthday gifts is the surprise. What's the fun in telling your family or friends, "This is what I want for my birthday," and then getting it? Oh, there might be a mercenary comfort in doing that (we don't have to pay for something we want, and no one wastes money on something we don't want), but where's the delight and unexpected pleasure? Where's that tickling anticipation as the gift is opened up? In short, there's no surprise! The best gifts are the ones you don't expect, after all!
So, for my birthday give-away, I'm going to send a surprise gift to someone!
In the past, I've had some pretty good give-aways:
They often include some fibrous, thready assortment…
… and sometimes they include embellishments.
Sometimes, they have nice needlework accessories in them!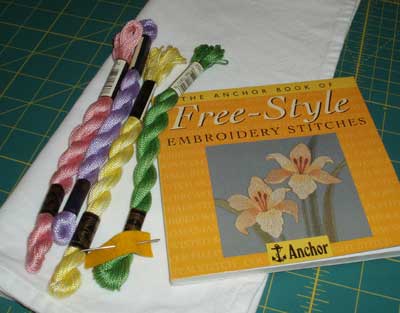 Sometimes, books…
… of various kinds.
Sometimes, they are rather elaborate…
…and other times, they are very simple.
Whatever the case, you can be assured that the package will contain enticing stuff for the needleworker, and a few little extras!
To enter the give-away, please do the following:
1. Here, at the bottom of this post (on the website, not in the e-mail newsletter, not by return e-mail, or not on another post), leave a comment answering the following question:
2. What's your notion of the best gift?
3. If you use the "anonymous" posting feature, please make sure to include a name on the post itself.
4. Check back Monday, April 13th, for the winner. The contest ends Monday, April 13th, at 5:00 am CST. If you win, you'll need to contact me by Wednesday, April 15, with mailing information. I'll post instructions on the winner's post on Monday.
Well, what do you think? Are you game to trust my taste in gifts?
Have a terrific day!