Oh, that title is SO misleading! I should clarify! "Rather Rare Needlework Pursuits…. for ME." There are types of needlework that I really get into (and I'm always game to try anything), there are types of embroidery that I love. You've probably noticed that most everything I do falls in the realm of surface embroidery of some sort – and often into what's called "free style" surface embroidery. But, lately, I've taken up a project that doesn't.
This project belongs to a category of needlework that is not so rare – in fact, I'd venture to say it is the most commonly worked type of needlework, as far as volume goes! Yes, it's true. I've taken up a counted cross stitch project.
I'll admit – and I mean no offense to any needleworker out there – that I'm a bit of an embroidery "snob." I am not a huge fan of counted cross stitch. In fact, if I were to nail down my feelings about counted cross stitch, I'd go so far to say this about it: I do not like counted cross stitch. Period. It is simply not my "thing."
My first ventures into any needlework as a kid in the 1980's began with counted cross stitch, and because of that, I do owe a certain debt to this type of needlework. Still, it wasn't long before I branched out into regular surface embroidery and got away from The Grid. I prefer – vastly – the variety offered by other surface embroidery techniques, and I find counted cross stitch rather boring!
Still, admittedly, counted cross stitch has changed quite a bit since the '80's – styles, types, looks, materials, etc., for counted cross stitch have become much more varied since those earlier years of Aida Cloth and DMC. And the resurgence of interest in "antique" needlework sampler styles adapted for counted cross stitch has a certain amount of appeal for me. Still… I'm not a counted cross stitch fan.
Oh, boy. Then why, you might ask, have I taken up a counted cross stitch project – and not just any counted cross stitch project, but a rather large and time-consuming one? Well, it's like this:
My niece is taking a home economics-type course in high school (9th grade) that has a needlework component. In the first semester, they focused on surface embroidery, and in the second they are focusing on counted cross stitch. And she was disliking the experience greatly! The 14-ct Aida cloth, the rather mundane '80's style pattern and colors were just not her. Also, it seems they were not instructed well on gridding up the design, centering things, and forming their cross stitches in consistently the same direction. She was frustrated! At first, I was inclined to smuggly think, "That's ok – I don't like counted cross stitch either!" but then I thought this was not a fair approach! Besides, knowing the ins and outs of working a charted design is helpful, so the knowledge would be good for her.
And so, the whole situation put me in mind to instruct her correctly on counted cross stitch techniques, and to show her the vast world of patterns and materials available so that she would not be left with a bad taste in her mouth over the experience. We started looking at samplers and so forth, and she got more and more interested in historical samplers and recreations. Eventually, we fell across a Long Dog sampler that she tought would be "really fun" to work. It is called "Angel Pavement," and it looks like this:
She liked all the little squares with different designs in them, the variety of motifs, and the colors.
Having piqued her interest in this type of design, even though it is a bit of a daunting undertaking for a beginner, I asked her if she wanted to work it. She was darned eager. I suggested that we both work through the sampler at the same time, to keep each other on track. She agreed enthusiastically, so I ordered the sampler charts, linen (28 count Cashel from Zweigart), and the threads (regular DMC – silk would be too expensive for something this large, and, to tell you the truth, I can't bring myself to use silk on counted cross stitch…)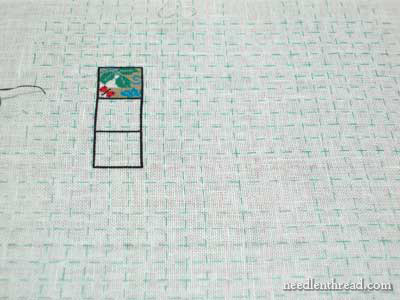 We began by gridding out our fabric. With any counted cross stitch design, it is always desirable to at least mark the center of your fabric so that the design lines up properly in relation to the center point. In more complex designs, it is a good idea – and saves a lot of time and frustration later on – to mark off even intervals on the fabric as well. So we worked lines of running stitches over every ten threads on the fabric, to give us a graph on the fabric that would make referencing the chart a lot easier.
Often, 28-count linen is worked over two threads, but we're working over one, which will make the design small, but which also reduces a bit the "pixelized" look of counted cross stitch. The little individual squares are less than an inch square, which is small. However, their size doesn't really reduce the time it takes to work each square. The stitching is small and… well…. monotonous. Cross stitch. What can I say?
This is about as far as we've both gotten. But don't think this was only a few minutes of stitching! There are 729 of those tiny X's in each of those squares. It does take time!
We mounted our fabric on Evertite frames, and are using magnets to hold the part of the chart onto the fabric next to our stitching. To make the stitching go as quickly as possible, I use two hands – one above the work and one below.
Unfortunately, to be able to mount both samplers on frames, I had to dismantle my whitework project! Ugh! I gave up whitework for counted cross stitch? It almost seems sacrilegious! (Kidding, kidding!) But, I have another project I must start (a commissioned ecclesiastical piece), so I wouldn't be able to devote time to the whitework right now, anyway.
So that's what I'm up to! Don't worry – Needle 'n Thread is not changing into a counted cross stitch website! Aaaaack! But to be fair, counted thread techniques are certainly legitimate forms of needlework, and there are some aspects about this project that I really do like. I like working with colors, for example, and this project has plenty of color in it! And I like to see things develop. And I like the fact that it's giving my niece something to work on with enthusiasm.
There you have it, then! Any comments? Do you think I'm totally nuts?
I'm beginning to wonder, personally….