Once I finished the embroidered anniversary card a couple weekends ago, I got it in my head that it would be a good idea to make some cards for upcoming occasions – and, for a change, to make them ahead of time!
Through April, May, and June, my family is beset with – oh, just about everything: my parents' anniversary (52 years this year), Mother's Day, my Mom's birthday (75 this year!), graduation, a couple birthdays at the beginning of June, weddings, wedding showers, baby showers, and on and on. It's not as if I don't know these things are coming up. But they still tend to take me by surprise!
So I determined at least to prepare some nice cards in advance this year for the big Spring / Summer Onslought of Card-Giving Days.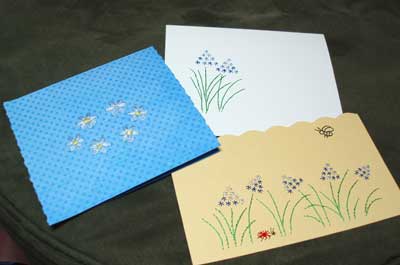 It really doesn't take that much time to prepare the cards for stitching. I pierced about 8 cards in a little more than half an hour.
Then I took the pierced cards, selected thread colors, and made up little "kits" for each card by placing the card and selected threads in a little zip lock bag, along with the original pattern for the embroidery design on the card. I arranged all the packages in a little box, with a roll of tape, a couple needles, and a pair of scissors.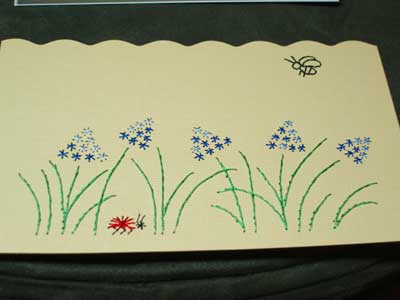 With everything ready, then, at my fingertips, it's just a matter of grabbing a few minutes here and there to stitch up parts of the cards. In fact, when I only have time for a 15-minute session, I can get at least half-way through simple designs, like this little bug and garden card.
This one took me even less time – very simple, but it will make a nice little card for an upcoming event.
This one took a little longer, only because I decided at the end to satin stitch the yellow centers on the flowers, and to do that, I had to pierce the paper with the needle as I went. (Note to self: satin stitch doesn't work that great on paper!) Still, they came out cute enough, and in the center of the one flower left blank (yes, I got sick of satin stitching on paper!), I'll stick a little rhinestone or something sparkly.
The finish work hasn't been done on any of those cards, and that's actually where most of the time will come in, if I end up doing anything "interesting."
I'm planning to put together several more card kits to have on hand for a bit of variety. It's really easy to chat and stitch on paper, but for some reason, I'm not good at chatting when doing "serious" embroidery! Pre-assembled little kits for fun things like this are also great to hand off to the kids when they're looking for something to do!