A few weeks ago, a reader contacted me to ask if I would be interested in a box of "old" stamped linens. They had been given to her, but she knew she wouldn't use them, so she kindly volunteered to send them to me, or to Good Will. Some linens, she said, still had the original embroidery threads with them. Of course, I jumped at the opportunity, and Freda very kindly sent me the box.
I've had similar things happen before: neighbors cleaning out their garage or their storage area and coming across old craft stuff and not wanting to go through it; people contacting me from afar, after the death of a family member, and asking if I wanted the box of their mom's embroidery supplies, as they weren't interested in them; a lady dumping (yes, dumping) a worn out box full of children's crafting supplies on my front porch…. and the list could go on. In most of these situations (the exception being the dumbed box on the front porch!), it has always been a real pleasure to go through the boxes.
Each box tells a story of sorts – what the person's tastes were; how much they loved their hobby; what things in life were important to them; whether they were very organized and meticulous people, or whether they were more like… uh… me. Going through old needlework supplies, you can learn a lot about people!
You can also learn a lot about the history of needlework, which was the case with Freda's box.
The contents of this box undoubtedly date to the late 1800's – early 1900's, during that era of "Silk Art Embroidery" or "Society Silk." Well, certainly some of the threads date from the mid-1800's up to 1917 (I'd guess closer to 1917).
Inside the box, I found a heap of unworked, stamped linens, featuring tea cloths, doilies, and the like. The majority are printed with "natural" looking floral designs, typical of the "Silk Art Embroidery" style (or "Society Silk"). Very few of them are partially worked, and none are completely worked. I'll show you the linens a bit later.
Tucked inside some of the linens were skeins of silk floss – in different degrees of disarray. Some will need attention to get them back in order; others are neatly braided.
Regardless of their current situation, all the threads are gorgeous! The sheen is incredible – the silk is just beautiful! I am looking forward to the challenge of separating and straightening out the different colors and weights of silk!
When I removed the linens from the box, I discovered more silk! Someone had already tried to organize this bunch, using small plastic bags.
The majority of the silk was manufactured by M. Heminway & Sons: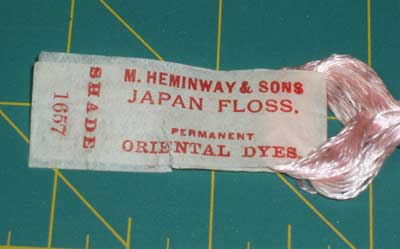 Merrit Heminway was the first manufacturer to spool silk in the US. From the mid-1800's through 1917, his company (formerly Bishop & Heminway) was called M. Heminway & Sons Silk Company. In 1917, the company was sold to Hammond Knowlton & Co, and the name was changed to H.K.H. Company. So somewhere between the establishment of of M. Heminway & Sons Silk Company and the selling of it to H.K.H., these threads were made. An expert who's studied the subject in-depth could probably look at the label and be a bit more precise as to the age of the thread, but there's no doubt that the era is certainly the "Silk Art" or "Society Silk" era of embroidery.
The popularity of this style of embroidery, which is essentially needlepainting flowers and other natural florals on linen and other ground fabrics using fine silks, lasted from the around the 1880's through about 1915 – 1920. According to Donna Cardwell in her book Silk Art Embroidery: A Woman's History of Ornament and Empowerment, the term "society silk" comes from the organization (The Society of Decorative Art) that taught the skills of this type of needlework all over the country and in Canada. Silk Art Embroidery has an interesting history and is worth reading about. Don't be too put off by the title of the book above – I was afraid it was going to be entirely a "social history" book, but it isn't. It contains interesting history and lots of technique information.
While it is evident from this box of goodies that the stitcher was definitely stitching household linens, I can't help wondering if they were for her or if they were being made to sell as a source of income? Was she just dabbling in the new embroidery rage? Or was she seriously trying to learn the technique in order to supplement income? These things, I will probably never know – but it's fun to wonder!
Incidentally, this type of thread was not used solely for "Silk Art Embroidery." This was the silk embroidery floss available in the US at that time, and you can see it on a multitude of ecclesiastical work from that time period, as well. I've always wanted to see the threads they used in ecclesiastical work from the early 1900's, up close. When looking at different pieces, it's evident that the pieces were stitched with lightly twisted filament silk. And finally, here's a whole box of it!
I'll be sorting through this as I have time, and I'll also be showing you the linens, in case you're curious!
Thanks, Freda, for thinking of me!