To celebrate the (upcoming) end of the series of Long and Short Stitch Shading lessons, I'm giving away one of Trish Burr's books!
You might be thinking, "But the lessons haven't ended yet, because we haven't seen the final leaf!" And, you know, you would be right in thinking that! The final lesson will be up soon. But I thought we could gear up for it with one give-away, and then follow up with a second give-away once the lesson is posted.
(Do you get the feeling that I think it's worth celebrating the end of this series?!)
Now that you have the basics of long & short stitch shading down and hopefully feel more confident in tackling needlepainting projects, you need a good book with plenty of projects and further (and better) instructions within! Trish Burr's books are just that – full of beautiful projects and excellent instruction.
Bonnie, a very kind reader, sent me a copy of Trish's book, Crewel & Surface Embroidery: Inspirational Floral Designs, in case I wanted to use it for a give-away. Her timing was absolutely perfect – I received the book just at the beginning of this week, and I'm so happy to be able to pass a copy on to a lucky reader! Thank you, Bonnie!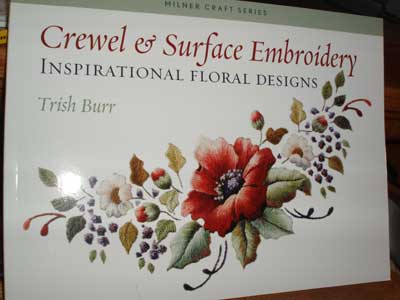 I've posted a thorough review of Trish Burr's Crewel & Surface Embroidery previously, and you're welcome to read it to see what the book is about. I think you'll find it a wonderful and inspirational resource.
To join the give-away, please follow these instructions:
1. Leave a comment on the website at the end of this post. Comments sent via e-mail and left on other posts can't be included, so if you're reading this via the e-mail newsletter, click on the title of the article, which will take you straight to the post on the website, where you can leave your comment.
2. In your comment, please include a name. You may post anonymously if you don't have a Blogger account, but please at least sign your comment so I can announce a winner who has a name.
3. Answer the following question in the post:
When you stitch a design from a book, do you stick rigidly to the author's designs, instructions, color choices, and so forth? Why or why not?
If you haven't ever stitched a design from a book, do you imagine yourself as the type of person to follow rigidly the author's instructions, or would you be the type of person who would branch out and try your own interpretation? Why or why not?
4. The deadline for this give-away is Monday, September 28th at 4:30 am US CST, so leave your comment before then! I'll announce the winner on Monday.
5. The give-away is open to all. Should the winner live in a different country, I will mail the book the least expensive method, and please understand that I cannot be responsible for any difficulties with international mail.
Good luck!