Would you like your own copy of Jane Nicholas's new book, Stumpwork Medieval Flora? Then you're in the right spot, because…
… I'm giving one away! To read all about this beautiful embroidery book that focuses on medieval flora in stumpwork, you can visit my review of Stumpwork Medieval Flora.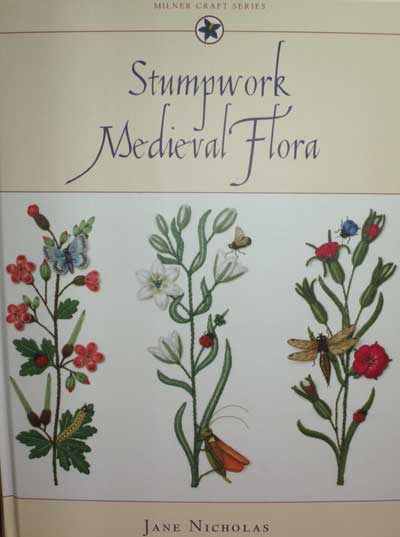 Stumpwork, though a more advanced embroidery technique, is accessible even for beginners. It utilizes many of the same surface embroidery stitches we see in other embroidery techniques.
This book is written for the needleworker who has ventured into stumpwork already. While the instructions are detailed enough for the novice, they are not necessarily written with the beginner in mind.
Still, if you are a beginner, don't let this deter you! If you've been inspired by stumpwork and have found yourself wanting to try it, this book will become a source of inspiration and motivation.
My favorite parts of each of the stumpwork designs are the bugs. It isn't often that I call bugs "beautiful," but these critters really are just that!
So, if you want a chance to win a free copy of Jane Nicholas's new books, do join the give-away. Here are the particulars:
1. Leave a comment on this article, on the website (responses via e-mail or on other posts are not eligible).
2. In your comment, answer the following question:
What do you find most fascinating about stumpwork embroidery?
3. The contest ends Monday, September 7th, at 5:00 am CST. Check back on Needle 'n Thread on Monday, September 7th, when I will announce the winner. The winner will have to contact me within 48 hours with a mailing address, so don't forget to check back to see if you are the lucky winner!!
Good luck!